Earlier in a blog I did, I explained what anime I would be watching either out of curiosity or interest. What was my take on these and maybe a few more?
Read and find out!
Cardcaptor Sakura: Clear Card Arc
Here we go, the one anime I was hyped up for and a total of 24 episodes!! With that much product, you'd expect questions with the mysterious person appearing in Sakura's prophetic dreams or the mysterious appearance of the Clear cards that wound up replacing the Sakura cards.
Well, that was my fault; none of the answers get answered except for one crucial bit of information mainly with the creation of the cards, which I won't spoil. There is also a question with Syaroan utilizing techniques throughout the course of this series that get answered but not being told to Sakura.
Okay let me gather my thoughts to at least be tactful; over the "2nd season" which began around episode 13, the episodes were good to ok however they had more of a daily life deal, which is expected for Sakura and the others. It helps show that just because she is the strongest magician in the world doesn't mean she lets it go to her head; her main attribute is that she cares about the people in her life and would never think of doing harm to anyone or use her magic for ill-use.
The thing is, as someone that has watched the entire first series of where she came from to her parting with Syaraon, I got that. For the first few episodes of this series, it was good to establish.
I was expecting just more of exposition with wanting answers at a certain pace due to, with the show going slowly with dealing with certain cards and making a small arc that could be two or three episodes, time was running out until we hit the end!
By episode 19 or 20 I was getting bored. Not only were answers finally coming down the pike, it wasn't the answer I wanted or we dwelled on it for a nice amount but wanting it to, once again, get to Sakura and explain.
Unfortunately, that is not what occurred. In the end, we are left with more questions and mysteries that are not solved. In the last episode, it hit the wall and did one crucial deal that fiction shouldn't do; time travel.
Yes, I know it it was established by a certain handsome butler, Yuna D. Kaito (which the D. is a clear reference to CLAMP's other character Fai. D. Flourite due to the use of the initial D)  with a sweet pocketwatch as he's making choices that affect the person he cares about by keeping Akiho in the dark over her own dreams of seeing someone (Sakura) take the cards from her.
Don't get me wrong, the action was sweet with Sakura using the new cards she gathered to fend off a non-coherent Akiho, who seemed not to notice what she was doing and when our protagonist finally pulls the hood from the frame and sees her new friend, she is stunned.
Then here comes Kaito using his magic to turn back time, which I'll admit is an extraordinary feat of any character in fiction to pull off, and make sure Sakura is in the dark over the robed figure and vise-versa.
The entire show ends on a cliffhanger with Sakura just saying that no matter what happens, she won't give up and continue to figure out the mystery of the Clear cards and assuring the viewer that there is more to the story than the anime is showing.
That's it? I get that from a certain point of view but come on, don't leave us hanging! There is clearly more than I'm curious about; like that uppity bunny plushie that just comes to life whenever Akiho leaves and offers some exposition. Another deal is with Toya; the story keeps stating that he is gaining some kind of new powers and all he keeps saying "It's not the time to use them to help Sakura."
With that said I can kind of calm down but…I guess I wanted it to happen now. Yes, I was being spoiled and wanted everything to happen as when it comes to anime about to close, the likelihood of it coming back for another series is low, depending.
Cardcaptor Sakura was big in the 90's as it reinvigorated the Shoujo hype after Sailor Moon left the scene along with Magic Knight Rayearth or Revolutionary Girl Utena. Seeing how this show comes back in a brand new series is nostalgia bait since as of this time period, nostalgia for the old material is the bee's knees however with nostalgia comes a form of stagnation; we go to what we like automatically due to disliking the new stuff nowadays.
Clear Card might not see another series due to various circumstances on anime nowadays. The show on my Crunchyroll barely was kept in the "Popular" category and was always off and on.
Antoher factor is the most basic, the anime caught up with the manga while it was still going on and it had to end with an open ending. I haven't heard news of the manga ending so it will be a while before we see a conclusion for this entire series as a whole.
While I have discontent, I do have some favorable words for Clear Card; bringing in Meiling was a good deal, as she became a fan favorite for some in the original anime by offering a helping hand for Sakura and Syaoran's relationship. She has come from being a brat to a rational and fun-loving teenager to offer words of wisdom or teasing for the couple. She also was able to help Sakura with dealing with a Clear card which was nice to see.
I actually found Akiho to be milquetoast at points; the show points out she is just like Sakura but a tad bit more polite but that get's boring and she is far too sweet for me. To be honest I expected her to faint at any cause of trouble due to how faint of heart she is.
That's not to say I despise her, I just want her to have some depth to her other than the rich girl that is somehow always polite that can sing to the par of Tomoyo. Okay, another way of saying she is a "Mary Su" and I don't like saying that for any female character in fiction but a spade is a spade and you can't say otherwise. Until there is something, I have to go by that.
Syaroan's arc was intriguing with him using, what seems to be powerful magic that could be the Clow Cards however it is explained off that he's just using a different branch in the family tree and is pushing himself too hard. He does have a sweet stock footage of him summoning his Jian though and I being a 12-year-old kid at heart found that so cool!
This show is not bad, it has good moments but sadly in the middle, it slogs on with the daily life aspect at times that makes it a slow burn until one or two answers get answered at a pace that could have been cut; I like melancholic drama but this was a tad bit much.
The 2nd opening for this "new season" called [Rocket Beat] sung by Kiyono Yasuno, had a different pace that has a nice sound to my ears along with footage of Sakura is like Alice in Wonderland kind of deal with her wearing a red dress like the Queen of Hearts and her needing to find some balance between her normal life and magic life. Granted that's how I interpret.
2nd ending named [Rewind] sung by Minori Suzuki, also the voice of Akiho in the Clear Card series, is song I like hearing more than the 1st ending due to how upbeat it sounds with footage of Kero and Spinel hanging out with the uppity rabbit plushie; even though these three do not interact at all in any episodes!!
I realized that the ending is misleading and there for fan service due to cute plushies!
For grading purposes, I give this series a 7  out of 10 rating for the story, plot, etc. That's me being bias as since it's Cardcaptor Sakura, I'm willing to not be butthurt over how the course of the series went but it could have been better.
Despite my rating, I will buy this when Funimation get's this on Blu-ray probably in the 2019 year. I do suggest giving this series a try!
How to Take care of a Mummy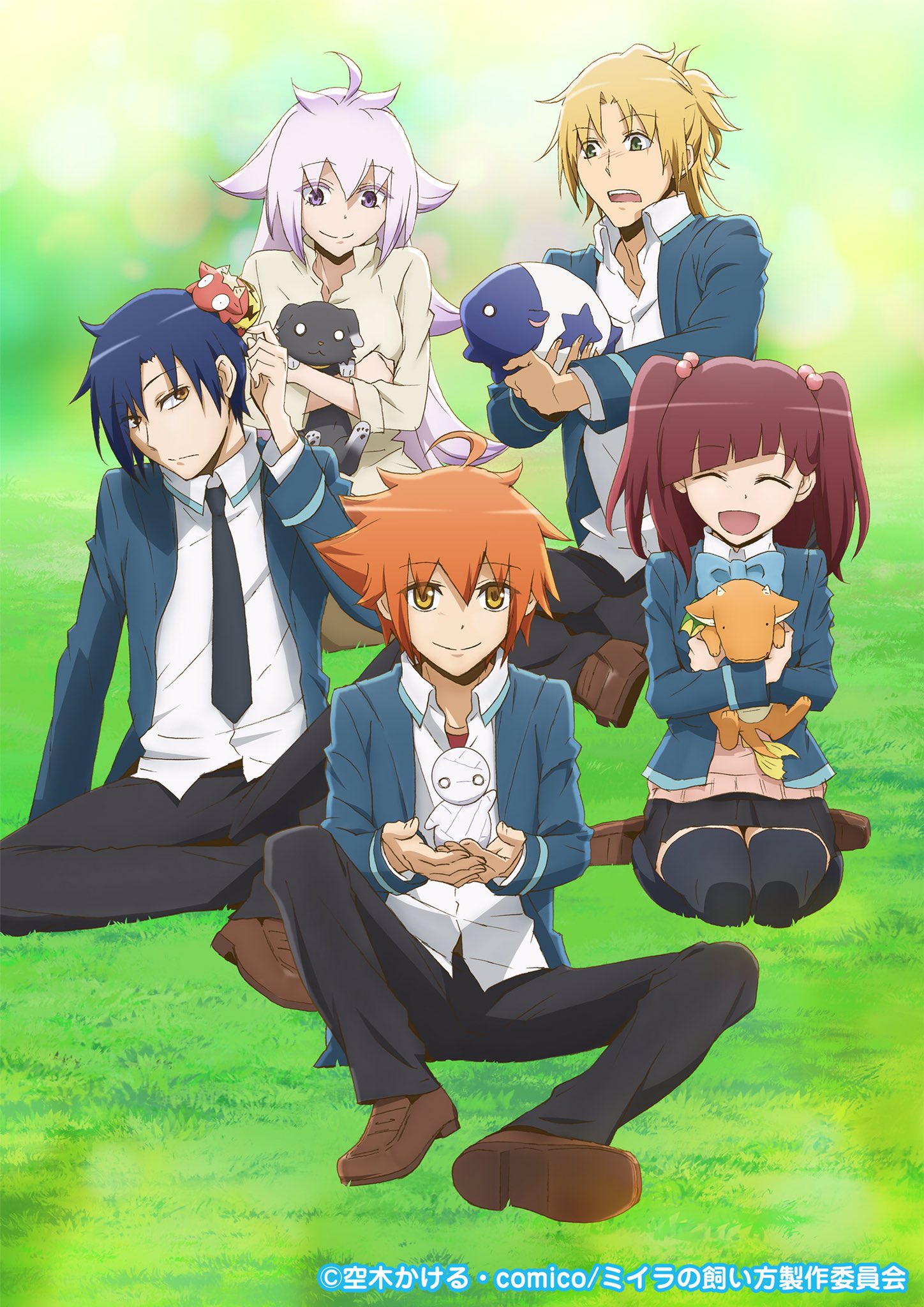 I'll be speed blitzing these next entries; How to Take Care of a Mummy wound up being a good anime! This show has heart and characters while being typically bland at points, are enjoyable with how the humans wind up caring for these little monsters that appear in their lives.
From Sora and Mii-kun as they are the main characters, they have a good combination of Sora being the caretaker with little Mii-kun trying to do his best to help his new friend with daily tasks or trying to be brave while his master/friend is gone is cute to see.
For Sora Kashiwagi's overall plot from taking care of Mii and the other monsters that visit with their own caretakers, he has to deal with being able to not take on so much responsibility or his fear of winding up alone as days like these will not last. He is surprisingly lonely and that shines through in the last bit of episodes. Mii-kun the other hand is considered to be the "baby brother" of the quartet of monster children but he tries his best and cute when doing it. Granted there is no reason to ever show any disgust with the mummy as he is cute!
Tazuki Kamiya character arc corresponds with him finding a small oni child that he reluctantly adopts, who is eventually named Coni and they don't "officially" become partners until episode 11, where the cool-headed but stubborn Tazuki acknowledges he does care for his charge. I found that episode one of my favorites as these two are my favorite human/monster duo in this series. Coni is a brat and a tsundere in a way but despite his derpy face, he has his own charm which matches with Kamiya's own tsundere traits. Coni can be considered the third bratty but heart of gold brother of the quartet.
Asa Motegi's character is one of the female protagonist's that is a happy girl but major fear of lizards, so fate kicks her in the teeth when a young dragon comes unexpectedly which terrifies her out of her wits! It's not only until Sora arrives, as he is the main character, to help Motegi and inform her that he is a dragon and it worried for her when she tripped down the stairs when she was in hysterics. This soon blossoms into Motegi becoming the dragon's caretaker. The dragon is named Isao and is considered the big brother of the quartet. He also flies as well…but only 30 meters.
The fourth character is Daichi Tachiaki and he comes in almost late in the series. He suffers from sleep problems due to nightmares he has which causes him to lash out at his fellow students and teachers which soon gets him the delinquent status. With Sora's help by using a kind of charm, Daichi's charge comes in the form of some dream eater who soon starts living with the gloomy individual, who is eventually named Mukumuku. The change does Tachiaki good when he becomes kinder with the amount of sleep he is getting thanks to Muku eating his nightmares. Muku is the steady second older brother of the quartet.
The show has a total of 12 episodes which one can binge watch and not get bored with it. The ending theme has a nice sound to it along with a dance the humanoid characters do which is intriguing.
I give this show an 8 out of 10!
Akashic Records of Bastard Instructor
This show I wasn't ever planning on watching due to my burned out of the anime dynamic for a bit due to the hype and the animation quality being the same of bright colors and easy panty shots of teenage girls. However, when I recently went to Otakon 2018 (a blog is coming on that) I brought the Blu-ray as I wanted to get a couple purchases and went with that.
I was able to watch this anime dubbed, thanks to Funimation, and I actually liked it! I wasn't on my usual cynical tirade with this as the writing made it better to laugh at the unique jokes it has, along with Josh Grelle voicing the main character.
The main character is Glenn Raders, a would-be deadbeat man around his mid 20's winds up becoming a substitute instructor for a magical school where he meets some resistance by one of the three female characters. I feel rather exhausted trying to explain as it's pretty straightforward but think of this series as a cross between Fate/Stay Zero meets Slayers for the most part.
Characters are generic and nothing truly shines for them since they are part of the usual spiel of Light Novel Syndrome but with the adaption by Funimation and unique writing along with a twist on some of the symbolic traits of magic thanks to Glenn, it's a decent watch. Nothing outstanding but worth a watch.
The series is only 12 episodes with the last episode being rather rushed by trying to close up the storyline.  I give this show a 7 out of 10.
High School DXD Hero
Talk about a surprise, I'm talking about High School DXD again after a long while after my review on the matter? 
That's right witches, I'm in a better mindset from my rather cynical review. Granted I do feel the same with the strong Light Novel Syndrome along with Issei getting far too much praise by all the females that flock around him as if they are skanks in heat but I have calmed down.
I'll be honest, I was in a spot with anime given social media so that was a major factor in my thoughts on it. However, like I said, I've calmed the eff down.
Okay, the first thing you notice is the animation is different compared to the last season of High School DXD? That's because the show was adapted by another animation company and I'll be honest, I wasn't a fan of seeing some of the images but seeing how it actually matches the light novel in terms of character constructs, it has actually grown on me.
The story continues with two arcs divided into 6 episodes to explain more or less of how Issei, Rias and her group deal with more demonic factions along with the progress between Rias and Issei and them going through the motions on their relationship.
Funimation once again knocks it out of the park with the adapting for English viewers with using hip lingo to explain the gist of Issei wanting them big old tits of Rias or the harem consisting of Akeno, Asia, Koneko, Xenovia and Irina wanting to have sex or get close with Issei's snatch.
I found myself laughing and going along with the typical formula of the main character needing to get stronger for someone else's sake, the main female getting jealous and them coming together with feelings finally revealed after 3 seasons.
The animation is good but with how Light Novel Syndrome usual goes, nothing new or exciting to think about. Sure, the terms of religion, symbolism and the like are good to do independent research on is good but again, this is a typical "dude/harem/romance" scenario with lots of boobs and butt shots, which actually works when you need to turn off your brain after a grueling day of work.
Josh Grelle kills as Issei with the usual voice actress/actors reprising their roles like Jami Marchi, Jad Saxton, Kristan Kang, etc.
Opening and Ending themes are ok; they weren't anything I need to hear on a second run, to be honest. Episode count is 12 so it's best to binge watch this.  I also watched this on the Funimation app on my PS4 so they have edited it with showing nipples; which is sad as a boob shot either needs it or to be tastefully not seen (depending).
I give this show a 7.5 out of 10 and worth a watch!
That is my list of anime's that have stood out for me currently. Here are some honorable mentions!
School Babysitters
This show was worth the watch! It's day of life deal with real heart with how everything goes down. The characters are likable and there were none I disliked (I mean half of the cast are babies) and the character that spoke to me was Hayato, Ryuichi's first friend and eventual helper for the babies at their school. I give this show an 8.5 out of 10!
Devilman Crybaby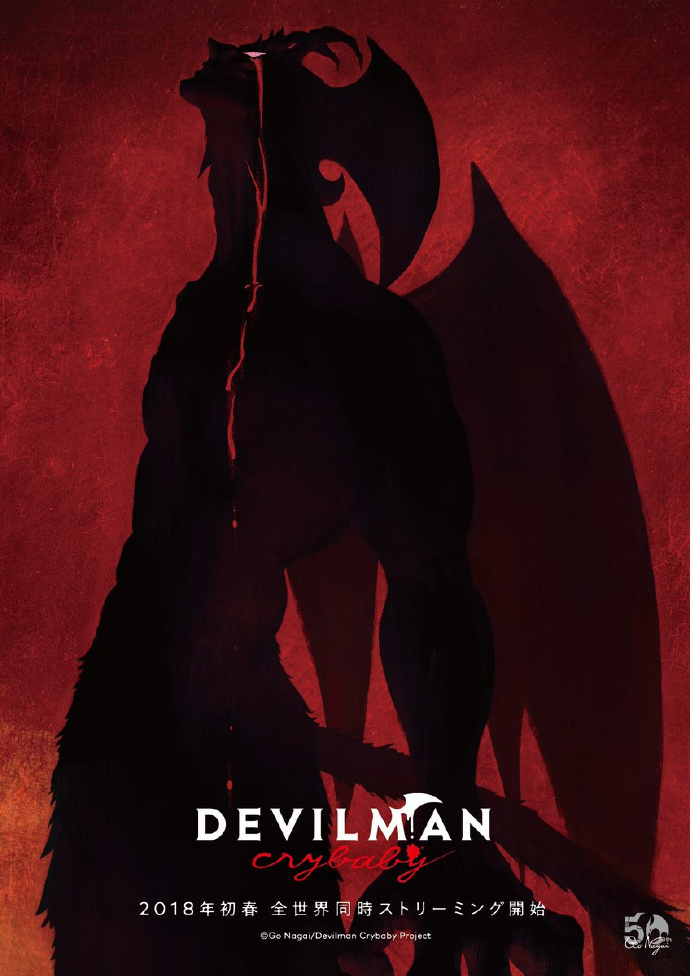 An anime I watched on Netflix and this one, pardon my language, fucked me up! It's a flipping good one but it will hurt you with what goes down! Music is dope, the animation is actually slick as it reminds me of xxHolic with how the characters are lanky and the story will hold you. Not for young watchers under any circumstances and I do suggest watching something to perk you up after your first viewing of this anime!
I hope, whoever is reading this, enjoyed this article. Sorry for lack of content, once again, I'm lazy and procrastinate however I'll do my best with this!
Until next time!