Hello everyone, I'm here to start my anime blog with some I'm currently watching and my view if I will continue to watch it on a weekly basis, wait after a few episodes or just drop.
This will just be my thoughts, nothing too deep (I hope). So let's go, shall we?
Cardcaptor Sakura: Clear Card
One of the most well-known anime of the Magical Girl genre, Cardcaptor Sakura returns in a brand new series, which is a direct sequel to the show and manga of the same name!
Sakura Kinomoto, the master of the Sakura Cards and the world's strongest magician, is now starting her junior high career at Tomeda Middle School! What's to be a brand new day winds up with something more happening.
One night, Sakura winds up having a strange dream (a prophetic one, as a fan, would note) of a figure wearing robes and covering their face, where the cards that she collected suddenly turn clear.
Waking up startled, she immediately checks on them to see, to her shock, that the cards are now inert and blank. None of the cards holds any power which is concerning. With that and now, the resurgence of other mysterious happenings with new cards showing up, a new staff and incantation, Sakura winds up going down a rabbit hole to figure out the strange dealings going on at Tomeda.
Of course, she's not alone in this endeavor, returning characters will offer her support throughout all this. Namely Tomoyo Daidoji, her best friend/stylist/fangirl/second cousin, Keroberos aka Kero for short and her now boyfriend, Li Syaoran, who has returned to Japan after him being away at Hong Kong.
Other characters also return, her school friends, Chika is in her current class with Naoko and Yamazaki in the class next to her. Rika goes to another school now but gets a mention which is nice.
Toya is in Universtiy with Yukito and though the snow rabbit is aware of his other self, Yue, he offers out some advice to Sakura, I get the feeling that he will be on the back burner for a few episodes to build up suspense.
I say that since Yue is powerful and even though that's the case, in the last series, his magical power was weakening and didn't really see him go all out, if not counting that brief fight with Ruby Moon.
Speaking of which, she (he), Spinel, Eriol, and Mizuki make an appearance and they are still close to Sakura via emails and the like. They also have gone ghost during this period and since they are the McGuffins of knowledge/exposition, they would have to let things play out. I don't expect them to be part of the plot until the middle or end of the series.
I say that due to only two episodes are out and Eriol mentioned he is aware but can't/won't help Sakura at this time so Sakura will have to get the answers on her own (pretty much telling the viewer to be patient and do theory crafting to get the answers you want).
I am also curious about what  Syaoran will do. I get he is Sakura's boyfriend but I'm hoping he has more to do then just be there, offer advice and give his magic power to boost Sakura's, like in the last bit of the series.
He has also claimed to have done something while in Hong Kong which he isn't saying anything more about. I suspect that will go into the current situation with these new cards appearing.
The animation is splendid and I can tell that Sakura and the rest look like teenagers. It's done respectfully, they aren't "sex up" or giving the female cast big boobs or any panty shots, which is a flipping miracle in this day and age of the anime fandom.
Granted when CLAMP get's involved I think they keep a tight ship to guarantee that their product is done right and not some hodgepodge of animators doing a crappy job. This is Cardcaptor so there is a standard to maintain as this is another treasure trove and series that anime fans love and want it done right.
I suspect if there were the typical tropes, there would be some fallout and it won't be pretty. I'm joking of course.
The opening song, called "Clear" is sung by Maaya Sakamoto, the VA for Sakura and it's beautiful. It really is a call back to the other openings of Cardcaptor Sakura with its feel, I think.
For the ending theme, it's called "Jewelry". I can't say it's bad though it's just there for me. I can go without it but it's nice.
In the end, I know this series isn't going to be non-stop action with cool fight scenes and cussing, as some would want in this time frame but Cardcaptor Sakura is refined for its story, loveable characters, and themes.
Though a critique is that these characters don't ever get in strong arguments and everyone is nice at their core, even new neighbors that pop up on occasion as it were but I'll take that over some of the more jaded sides of anime nowadays.
I am all in for watching this series. It will also go into 26 episodes. Yes, 26 episodes!!! I never thought I'd hear or see that pop up again!!! Does my heart good.
May this jewel continue shining as it goes into spring and maybe the summer (that's my guess when it will end) but I could be wrong.
Something else, this anime follows the manga and not the anime specifically. If you remember, there was the 2nd movie after the first series ended called "The Sealed Card" that was a kind of epilogue to the show as the last episode left on what could be considered a cliffhanger.
From what I can tell, that is non-canon. I'm not some expert on this but if it were, that means Clear Card would have alluded to the goings on, Sakura acted surprised when Syararon came back as if she is seeing him for the first time.
Though as I think on this maybe it is canon? The 2nd film did show Sakura admitting her love for him and one could say that after that, they kept in contact with email and letters as stated by them in this series?
I guess use headcanon?
School Babysitters
When their parents die in a plane crash, Ryuuichi and his baby brother, Kotarou, wind up in the care of an old headmistresses school and she wants Ryu to help out in the daycare when he's not at school as payment.
There the brothers meet a colorful cast of tots as Ryu works at this place with some help of some other characters in this series.
This one surprised me as it's only been two episodes and I'm hooked on the dynamic of the reliable Ryu and the stoic baby brother and his dealings with his new friends.
There is one that stands out for being rough, named Taka but get's whacked on the head by his older brother, Hayato, who is also a classmate to Ryu. Another is a pair of twin boys, one who is hyperactive and the older one while the other is timid and looks on the verge of crying. There is also a tot girl who carries a giraffe wherever she goes and winding out the crew is a baby girl who babbles and usually in the arms of the caretaker, named Yoshihito (Yoshi for short), who is lazy as he is always sleeping.
I find it charming with this show as it's a slice of life with the theme of family and loss. Even after two episodes, I feel this is a series I can watch every week and re-watch until more episodes come on.
Like most, this will be a 12 or 13 episode run.
Here's to you brothers that bring the feels!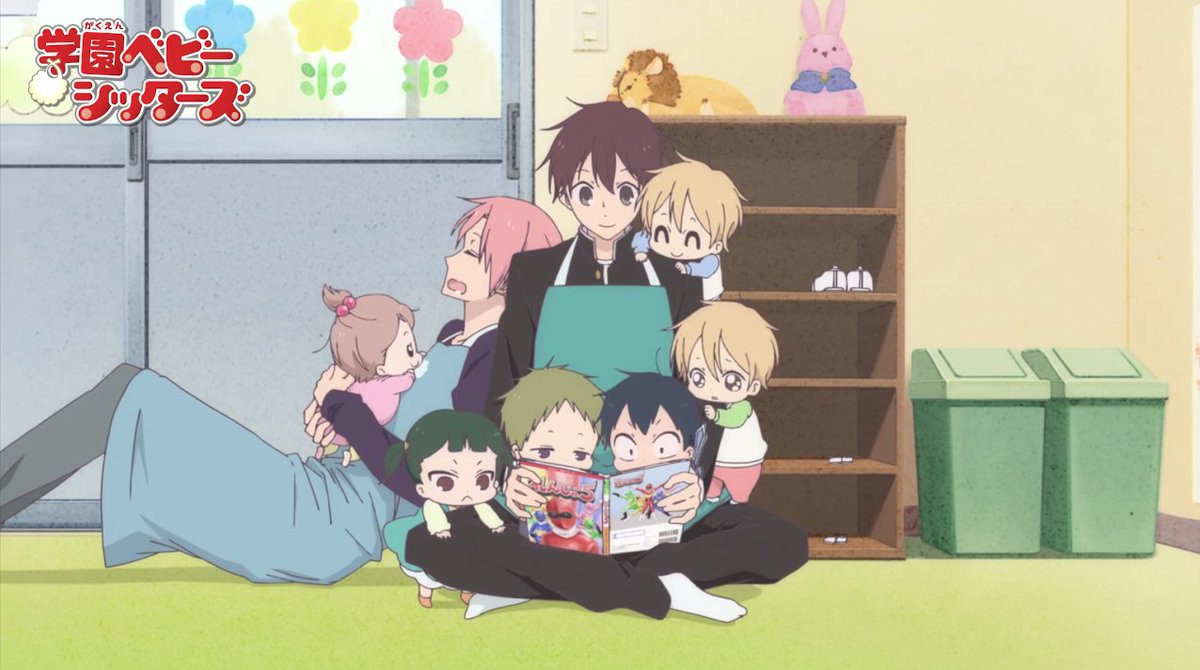 How to Keep a Mummy
This one will be one of shortest. I wasn't even going to watch it as it looked too cute with some bandaged mummy with a kid who appears to be in high school, even though I thought he was a junior high school student due to his Shonen appearance.
From the looks of this, the orange-haired' dude, named Sora Kashiwagi, gets a delivery from his dad, who travels a lot, sends him a big box and to the dude's shock (as it's established his father always sends him something that winds up being comedically dangerous) finds a small figure which turns out to be a mummy.
You know, wrappable dead people that you see in Egypt in coffins that could possibly be dead kings and the like? Yeah, this dude is a bonefied mummy. But he's cute.
Sora winds up giving the mummy the name "Mii" and this is where their story begins.
Going by the opening and some images I pulled up on Google, Sora's friends will be getting little monster friends of there own and live with them and lots of misadventures will make up the show I feel.
I do apologize for not giving any other info or names of characters. I know that as someone who watches anime I need to know this to give out info, however, this one I'm just treating casually.
I can't say this show will be deep, seems like a feel-good show with a cute helper in the form of a mummy. Going by some images, it seems the manga is popular for the kid/early teen demographic.
honestly, I see this one going for a single season. This isn't terrible, it's actually thawed my cynical heart and I can just watch this on a bi-weekly or even monthly basis once the show completes.
I'll say this much, Sora's cynical friend, the one that has the dour look on his face, speaks to me. He's jaded and apparently will tease Mii for shits and giggles.  Yes, I'm a jaded person but not by choice!!!
So if you need some escapism in the form of a cute mummy helper, this show is for you!
Death March to the Parallel World Rhapsody
Death March, a term for IT workers use when trying to fix a computer problem that will take up most of their time and work non-stop with few breaks and after it's done, they are tired to the point of being dead.
When I saw this as the name of this show, I wasn't going to give it a chance. I mean, the main character, named Suzuki Ichiro, is a programmer and an actual adult, who mysteriously winds up in the game he is trying to fix.
When he awakens he appears to be in his teenage form, to his surprise. Ichiro also has high stats and is pretty much pulling a Kirito-GOD MODE in that respect, minus the determination and not being oblivious.
What really is draining about this one is that it's the genre of going to another world, like RE; ZERO or some others in recent years that is becoming a thing. It's a male character who will eventually get a pack full of females (look at the opening and ending themes, that's not a spoiler) and I'm going to guess over the course of the series, the main girl and the others will develop feelings for him and while some will be put in the platonic side, it doesn't mean they (the females and lolis) will pine for his attention at some point.
I also feel a hot springs episode or full of fanservice episode coming down the bend!
The animation is actually good and the story is intriguing for one. The main character doesn't seem insufferable in the slightest but this show has the tropes that drive me mad (look at what I said before this paragraph).
However, I'm willing to give it a chance and not come across as being judgy. Granted I am due to reasons but at least I'm trying to get over myself.
If you are into the main character that get's an all-female cast that will eventually love him to the cows come home, action mixed with gaming elements, this is for you!
I'll probably or will, wait awhile before picking this up again. I feel I just want to binge watch it and never think of it again. Again, it's not a bad anime, this is just my (cynical) view of it.
But really, do the females have to fall all over him? I miss the days of Love Hina, and let me tell you, that anime hasn't aged well!! I see the flaws in it and I hate Naru!!!
That's my anime views of the ones I'm watching or am trying to list. Sorry, it wasn't that long. I hope you found this at least, slightly intriguing.
I apologize if my cynicism showing.
Until next time!