When I think of anime growing up, Tenchi Muyo is one of the ones that comes to my mind. Not only was this series one of my top 3 growing up, it actually opened the doors to anime.
The first one I watched one night when I went to the (now dead) Hollywood Video, was Tenchi Muyo: In Love. Now I know that this is a movie that one takes place in the "Universe" continuity than the OVA one however this does hold value to me.
The Ryo-Ohki OVA series is the first series and true continuity (as I see) on the story of a normal teenager named Tenchi Masaki as he learns that he's not exactly "normal" in the way of his family's extensive history along with what can be said "destiny" in the universe.
Ryo-Ohki OVA series is divided by "series" with a total of 4. Episodes 1-7 (plush the special episode) is OVA series 1. This introduces the main cast in these episodes along with the general plot. Along with the big bad of this series being Kagato as he's alluded to by the end of episode 4 with episode 5 being his official appearance.
We also get insight (as I see it) how Ryoko falls in love with Tenchi primarily during the Kagato crisis. The Mihoshi's Special is the accumulation of all the main girls being the space officers bizarre story of fiction (or is it real?) which is cool to see. We are also introduced to Pretty Sammy in this,  which also breaks off into her own 3 OVA series with different continuity.
Episodes 8-13 are OVA series 2. These branch of episodes are mostly stand alone episodes but each offer up good development for some of the female cast, namely Washu with her link to the Kuramitsu family (lots of backstory via the internet if you want more info and Sasami's connection with Tsunami, one of the Choushin.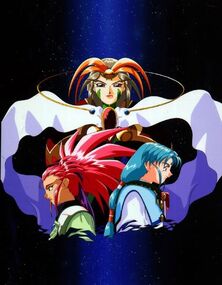 Episodes 11-12 are the new arc revolving around a new threat of Dr. Clay and his robotic assistant, Zero. This series also introduces a prominent unknown figure that adds a mystery to the series by the name of Tokimi.
Episode 13 accumulates what happened in the previous episodes along with funny moments revolving around Yosho, Ayeka and Sasami's parents coming to earth, the first emperor of Jurai, Azusa and his two wives, Funaho Masaki (mother of Yosho/Katsuhito) and Misaki Masaki (mother of Ayeka and Sasami).
Episodes 14-20 are OVA series 3. Fun note; the first 2 OVA's were released in America around the mid 90's with the 3rd OVA not coming out to at least around the mid 00's. This series follows the secret behind the Masaki family, Tenchi being introduced to a long lost sister, Kiyone, new fiance by the name of Noike. She is the adopted daughter of Tenchi's great-grandmother, Lady Seto Kamiki Jurai aka "The Devil Princess of Jurai" that arranged it and holds behind the scenes power on Jurai and Mihoshi family getting into the mix due to her baby brother's sister-complex.
All this is looked over by antagonist and follower of one of the Chousin Tokimi, a man called Z.
The 4th OVA series (which I haven't seen unfortunately) are episodes 21-24 with the last episode not coming out to this month. I don't know when and if it will get dubbed but I hope it will.
Tenchi Muyo series has extensive and thought provoking characters in what I can say is the typical "harem" anime. Though now that I'm older I can't really see it as just a nubby "harem" anime as it is today which is saying something.
True as the MC, he does gain the affections of half if not all of the female characters by just smiling at them or being kind. And it is true I have gotten on the case of such tropes in one of my past blogs (pimping out my "Spiky Haired Syndrome" post, go read), though i'll admit I was in a phase of "being overly sensitive to anime and knocked around by the changing times of fans" and that showed by bitterness over such things but as i rewatched the OVA series (on VHS baby, boo-ya!) and research on his character and the others, I've come to a different conclusion over this being a jacked up "harem" genre.
Yes the female cast is extensive (multi-colored hair and all) and pine for his affections. Yes, they have shown their breasts on key episodes; Ryoko purposely does it at times which can be seen and Ayeka, though that was the space pirate trying to embarrass her in episode 3's hot spring episode.
However Tenchi chooses not to engage in any kind of flirty behavior with any of them or even show romantic interest with them (frustrating for the viewer, trust me) and we can dub him being indecisive for not choosing one (most likely the female we favor to be the main girl for the male) but the important thing is that the cast that make up the extended Masaki family of Ryoko, Ayeka, Sasami, Mihoshi, Washu and later Nokie, is that Tenchi does indeed love them all as they are the ones to get him out of from being lonely; being raised by his dad after his mother passed as a kid, he cherishes them very much.
Sure one can say that once he chooses than one will be happy but that would break up the show's cast and make it some revenge or emo anime about the repercussions of said actions. It's not supposed to be that dramatic other than the occasional life or death situations but have fun with the awkward faces Tenchi makes when wound up in some predicament with one or more of the females in his house.
From researching what I could it has come to my attention that Tenchi's relationship with all the girls in his house will be his future one day. To put frankly, he will be intimate with all of them and have them for wives when he ascends to be the next head of Jurai royal family along with have kids with them.
So "OTP" (one true pairing) is pretty much irrelevant in this case regarding a male and female love story. When I was younger I did favor Ayeka (and still do ) as being the one for Tenchi and him being with Ryoko just seemed taboo for me. As I'm older now I can see that out of the gang the space pirate's love is indeed genuine. Ayeka's love for Tenchi might not be as, and I say this with hesitation, desperate as Ryoko's however Ayeka's love does come from a real place.
The theme songs for this series varies. For the first OVA it has more of a fluid instrumental beat than lyrics called "Tenchi Muyo Ryo-Ohki theme". The ending song "Talent for Love" sung by Chisa Yokoyama in Japanese with Sharyn Scott singing it in English is an upbeat song that gets in your head.
Listening to both pieces have their own quality and can't say one is superior over the other given the Japanese singer does get the pitch right but the English one has it's own charm (and even sing in the shower if you are in the mood).
Second opening is called "I'm a Pioneer" sung once again by Chisa Yokoyama and Sharyn Scott respectively. For this one I didn't really care for it in Japanese as it's not what I expected however the English version captured my attention more.
Must be the big voice thing of the 90s that got me? Ending theme is "The Lonely Moon" sung by Ai Orikasa (Ryoko's seiryu) and Scottie Haskell; sounds very lovely in both versions as it really captures the intent with the lyrics "Sometimes I cry for you, knowing you don't want me too." is just a small bit (English version but it has punch dammit!).
For the third OVA series is another instrumental opening but gains ground with the drum beat to the end. Ending theme is "Lovely Cookin" sung by Tomoko Odajima with no English version given Pioneer didn't dub this one (it's defunct sadly).
It's a good song but nothing to write home about.
Time for me to give a brief input on the characters.
This won't be extensive as these our my opinions and namely be the main cast. Getting this out the way Nobuyuki, Yosho and other extended family/friends won't be discussed other than in passing.
Let's go!
Characters
Tenchi Masaki
VA: Masami Kikuchi/Matt K. Miller 
Tenchi Masaki; main protagonist and love interest of almost half the females in this series. He is 17 years old. Polite, kind but easily flustered due to not knowing how to deal with so many females in his household. Regards the ones in his life as family and will not "advance" on them in any way as his true wish (as of now) is to enjoy them as a family that staves off his own loneliness.
He is well versed in swordplay taught by his grandfather, Katsuhito, which is the Jurian style of the royal family (unknown to him at the time). Tenchi is decent but not up to par with anyone but has grit. Tenchi has gone up against Kagato on two instances in episode 5 and 6 with the latter episode being the one where he destroys (is kill okay to say?) him.
Through episode 6 we discover that Tenchi is special than anyone thought as he can create [Light hawk Wings] out of nothing. He can materialize three pure wings of energy at first until after his fight with Z where he gains a grand total of six.
That's a big deal since one has to be bound to a Royal Tree on Jurai and given that Tenchi is an Earthling (by technical standards) it's unheard of for anyone to use a phenomenon like that who isn't a Juraian not linked to a tree. As Washu puts it "You were cut off from any external power at the time, including Tsunami…"
Indeed Tenchi has extraordinary powers even he is unaware of along with only awakening when in a dire situation. There have only been four instances in the OVA's that he has used his powers.  It's also stated that at some point down the line Tenchi will be some God.
I say that given the evidence in OVA 3 along with Tokimi and Washu's own testimony upon viewing his "God" form emerging after he is cut by Z.
Even if Tenchi is a being with untold powers he is still the bumbling dork that everyone loves.  When he isn't going full of OP (over powered) he has the basic Jurai battle attire he can change too while using his sword, also called [Sword Tenchi] which he inherited after stealing it from the cave where he unintentionally released Ryoko.
It has 2 orbs on the handle (originally three but Ryoko got that one). It generates a light blade which can cut anything. The sword can only be used or held by a Jurian of royal blood and activated. It also has severely hurt Ryoko when Ayeka used that to gain information on Yosho's whereabouts in the series.
His voice in the dub is pretty consistent as he sounds kind of dopey but that also works against him. When I was younger getting this series I thought Tenchi's voice was one of the best however being older (wiser/cynical?) it also works against him in some ways. Japanese is what you expect and I like that one for some parts of the OVA's earlier episodes though I come around to the 4 episodes in the 2nd series in English.
His interactions with the girls in his house is mostly polite/friendly but he does hold a fondness for them. He can get angry at times which is evident when Ryoko accidently rips his mother's robe when she put it on.
Though he seldom shows that kind of emotion. Along with get's exasperated with Ryoko and Ayeka fights over him; it's shocking he's not taffy at this point.
Who he "loves more" is up for debate but the creator has stated that he would marry all of them so there's no need to worry, your favorite female of the series is good with Tenchi.
It's interesting to note that a possibility that Tenchi will have kids with Ryoko and Ayeka is high up there. In some "What if" story it showed Ryoko and Ayeka having a daughter each with Tenchi, with Ryoko's being about a few months older and the duo being raised as sisters and getting along better than the space pirate and princess first started.
Granted there are fans that speculate if that is canon given the shape but for me, with it being the creator that did this, I want to believe that will happen; that he will be there for all the females in his life. Even if it's a unity out of sibling liking as well. So it's canon for me!
I only say that since Azusa has two wives and as it goes, Misaki and him love each other but more as "older brother-little sister" kind of deal which means it could have been a political one. Though at the same time he probably has love for Misaki albeit Funaho being the one he fell in love with.
This is also not stating the whole "bonding of twin trees" thing that Misaki and Funaho got going on and seeing each other as sisters. Yeah it get's confusing so it's up to the individual to think of something that sticks.
.
*Tenchi ready for battle in Jurai battle attire*
*Tenchi's Light Hawk Wings activated. God mode*
*An impossible anime face that only Tenchi can do*
Ryoko Hakubi
VA: Ai Orikasa /Petrea Burchard (OVA 1/2)/Mona Marshall (OVA 3) 
Words of "demon" and "infamous space pirate" are ways to describe Ryoko Hakubi. She is a beautiful girl with a killer body, foul mouth and in unapologetic with her flirty ways for Tenchi but underneath the bravado she is a lonely girl wanting love.
Ryoko is almost around 20,000 years of age and is rather sensitive if brought up in her presence. She is a being that was created by her mother, Washu a long time ago by being harvested by her (Washu)'s eggs and another known aquatic life called mass.
Ryoko's life would not be an easy one when Kagato sealed Washu away and used her and Ryo-ohki as his puppets to wreck havoc all over the galaxy for a long while being effectively known as a "Space Pirate" and an infamous one at that. Being a puppet with no will was harsh and she neither knew of any emotion.
Doing some research on the matter Ryoko (at the time) used masturbation or sex to try and get some feeling but nothing came close to what she will have for Tenchi in the future.
On a fateful day she attacked the Planet Jurai where she and Ryo-Ohki were a challenge for the superpower of the galaxy. And it is here that Yosho fought her and led her away from the planet.
The duo continued to fight until reaching earth. Yosho wound up in the place where the Masaki shrine would be. Using Sword-Tenchi, he was able to get hold of the three gems in her possession and effectively sealing her powers and body.
During this period Ryoko wound up using her astral form to explore the place she was in despite her body being sealed. This is when her fateful encounter of meeting Tenchi as a boy begins.
She wound up seeing him as a kid growing up and learning a feeling of liking and love through seeing him. Flash forward to when he unseals her and she decides to "play" with him by using her powers and trash his entire school.
This soon spills into more havoc when Ayeka arrives and after that finding herself being part of the Masaki family. From teasing Ayeka to flirting and gaining Tenchi's attention, Ryoko clearly likes the way her life is now despite all the darkness that occurred in her past.
In my head now I can say that Ryoko indeed loves Tenchi in the most genuine way. Her feelings are so much that she can be extreme with it; wrapping her arms around his neck and flirting however there is a serious side.
As I mentioned Ryoko's love for him runs deep, she even says it herself that "Tenchi, I can't live without you on this planet". Or in her Universe counterpart, "I don't need anything else, I just can't bear the thought of losing you!".
She has also merged with Zero, a robot that cloned her to get close to Washu but fell in love with Tenchi and being the one with "Ryoko's true feelings for Tenchi" and shows it by blushing whenever he is in her viewpoint. It is these feelings that change Zero-Ryoko from being a pawn for Dr. Clay to someone that loves Tenchi.
By the two merging (with Ryoko's consent after Washu teased her a little) she was prone to "the vapors" as I call it due to her affection was that of a loved struck girl. She is eventually able to settle her emotions to go back to her usual gruff self but she is now more attuned or in balance with it.
Her love for Tenchi is the strongest which I can accept and respect compared to when I was younger and thought that she was undeserving of Tenchi due to her over the top sexual advances.
It looks I like Ryoko as a character with a lot of development into her character from being merciless to a woman that is to be respected. She also has a cute-child like side to her which is explored in "Here Comes Jurai 2" segment which is a small short.
Of course just because she loves Tenchi and the ones in her life (she won't admit it) that doesn't mean one should think she's normal.
Ryoko's abilities are extensive, she can shoot lasers from her hands, manipulate it into a sword, fly, teleport, phase, regenerate, to just name a few. She has also merged with matter during her fight with Kagato. She is a superior fighter and one that can keep up with Tenchi and this is even without her gems.
She has one gem on her wrists that can be used to manipulate and materialize a spirit under the sun in a belly of water but without one on her right wrist she can't control it and seldom uses it. Of course the powers mentioned above is all her basic ones.
When all three gems are utilized (one day) she can match up to God Tenchi if she wanted and have the full brunt of her powers from her gems. She will be able to create light-hawk wings herself.
Though I don't expect that to happen anytime soon and at least until she is mature.
Voice acting wise both the Japanese and English versions really capture her personality and I have no complaints. Though in the OVA 3 her VA changed to Mona Marshall and I love her voice for Ryoko as well though it had to grow on me after a few years whenever I decide to watch it.
*Space Pirate Ryoko battle attire*
*Light Hawk Wings activated by Ryoko*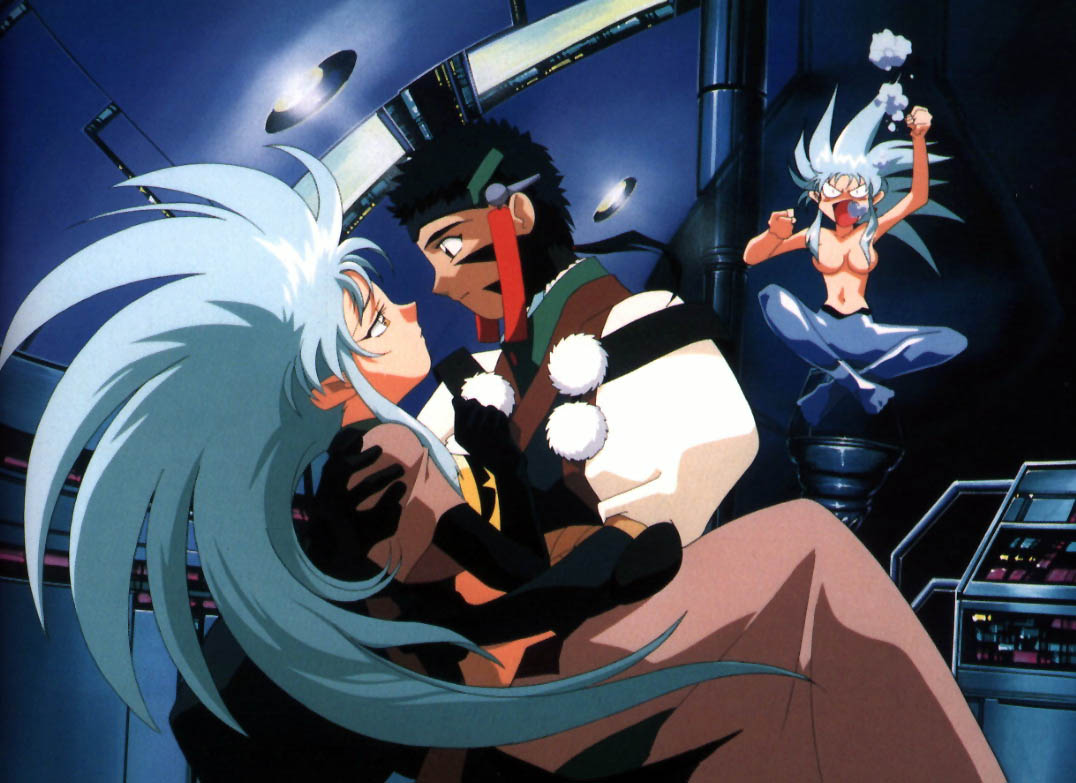 *Zero-Ryoko "winning" over Tenchi! LOL!*
Ayeka Masaki Jurai
VA: Yumi Takada/ Jennifer Darling (OVA series one-three)/Rebecca Forstadt (GXP)
Ayeka, first princess of the Jurai royal family is what you expect; she's demure, gentle and aristocratic. She is also known to be arrogant at times due to her own life style but at heart is like any normal girl of (physically) the age of 17.
The princess is the second female to fall for Tenchi in the series and always the rival to Ryoko. While the space pirate is outspoken, Ayeka is quiet yet fierce for her love for him and when put in the pressence of "that vile monster woman" she can be a firecracker and also have a firm grip on her love.
While I can see Ayeka's flaws more than I was younger, she is still my favorite character in this series due to one, she's a tsundere (in a way) along with I just loved her disposition of being a princess along with everyone always threw shade at the underdog of the character.
Sure, some might find that she fell for Tenchi as a replacement for Yosho but I think there is more to the anyalsis than just typical hate.
Well to begin a brief bio before I get there; she is the first daugher of Azusa and Misaki, half-sister to her older brother Yosho, step-daughter to Funaho and granddaughter of the devil princess of Jurai.
When she was younger she always hung with Yosho, who was a teenager and she being a child, and it was from their parents that they would be betrothed to one another. The thing is Yosho only loved Ayeka as a sister while the latter did love him. But here's where things get sticky.
Funaho, Yosho's mother, also took part in raising Ayeka along with Misaki and the princess admired and loved the graceful queen. It is because of this (in theory but it holds fact) that is the reason she fell for Yosho.
Not to say her feelings were trivial, she really wanted to be the wife of her brother.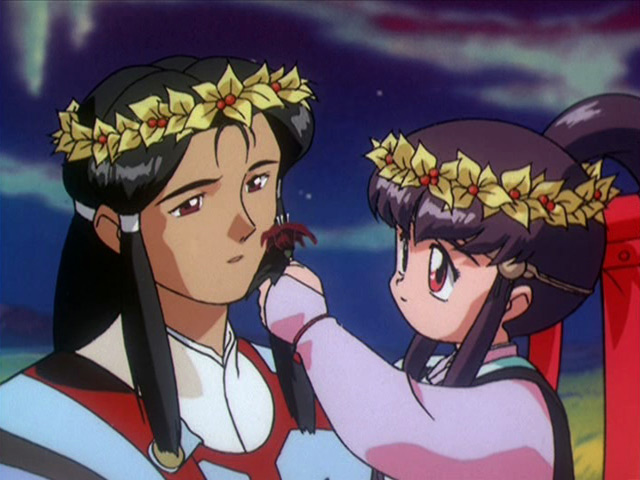 And before we go deep, apparently the blood relation marriages is kind of a thing on Jurai or not really looked down on to an extent. I'm not sure how it goes but that's where this seems to be leading.
Ayeka even has ackownedgled to Tenchi regarding that it "might seem weird to marry a sibling" and even though she didn't disclose any info it seems she was just fine with it.
However when she turned 17 things changed when Ryoko attacked Jurai and changed her life. Through backstory it's discovered that Ayeka has bonded to her tree, [Ryo-Oh] and actually tried her hand at getting at Ryoko. Even though she wasn't synched to it that long she was able to land a blast at her despite the ship being more for defense but it's also explained that Ryoko was just "playing with her".
Either way this leads to Yosho leaving to battle Ryoko with Ayeka hot on his heels. She brings her little sister Sasami with her. But the trip to Earth is a long one and she placed herself and her sister in suspended animation for 700 years until the story gets to the current day.
After that she finds out Ryoko is alive and attacks the neighborhood Tenchi is living in. After a small fight the Jurian princess captures her and Tenchi where shenanigans occur before she winds up being a member of the Masaki family.
At first she's put out being on this watered down planet and rather cold to Tenchi before it's discovered they are related by blood and after the battle with Kagato that Katsuhito is really Yosho making Tenchi the grand nephew of Ayeka.
After these events Ayeka staples herself as one of the leads for Tenchi's affections.
Now the analysis is that Ayeka loved her brother and wanted to marry him, this was possible due admiring her step-mother Funaho and she became fascinated with the way she carried herself; one of nobility and to be like that of a traditional princess.
However here's some interesting info; Misaki and Sasami have that teal-hair color going on while Ayeka's hair is purple and like her father's. It's revealed in the novels of Tenchi that her actual hair color is the same like her mother and sister's! She placed herself under gene manipulation to make her hair purple as it was like her fathers and to be be closer to style like Funaho's as her brother mentioned that his mom is like the ideal kind of woman.
Going in deeper Ayeka's fiery personality she exhibits when dealing with Ryoko, she gets that from Misaki. Apparently she was a tom boy much like her mom when she was kid so it adds depth to Ayeka as a character.
Even though she tries to not let that side of her show she tries to at least tame it. Ayeka does love her mother a lot too but just wishes she wasn't very emotional or clingy at points.
Now when it comes to Ayeka and Tenchi, yes, for a part, her feelings for Tenchi are transference from Yosho to Tenchi but there is something to be said on this. I don't believe Ayeka's feelings fall to Ryoko's.
It's not as dynamic but clearly Ayeka fell for Tenchi due to him being polite and treating her like a normal girl (more or less) despite him calling her very formally. Ayeka's love for him is also expressed in her character song "Call me Princess" which shows another side to her personality that no one expected…she's full on S & M mode!!
It's twisted in a way but given her mother is Misaki and grandmother being Seto, it's not that surprising given the females (more or less) take lead in the family.
So yes, lot's of sides to Ayeka that not many people know. Ayeka is shy when it comes to her body given she is conservative compared to outlandish one's like Ryoko and even Mihoshi with their sexy body's. Ayeka has a good form.
Along with even though she is the picture point of "damsel in distress" at points Ayeka is shown to be shrewd and smart. She might be the most "high maintenance" of the Tenchi girl harem but once broken in she's the ideal mate you want to introduce mom too.
She gets along well with the residence in the household and is always clamoring to get Tenchi's attention though her and Ryoko's spats have diminished with time as if they got used to each other. They are even drinking buddies. The princess doesn't really show it but she does love her younger sister very much and when it came to Sasami's secret Ayeka showed her maturity by accepting her for who she was.
Ayeka also wanted to help out Zero-Ryoko when she saw how pitiful she looked (reading between the lines she felt bad for her and wanted to help) so this goes into that Ryoko and Ayeka are friends though they won't admit to it.
Ayeka isn't completely helpless as she does know self-defense and was taught by her mother Misaki who is the Supreme Commander of Jurai's Royal Guard. She is super strong (even though never seen), flight (in battle attire from what I saw) and can generate strong force fields which is mainly her offense. She can also use her force fields to generate a force blast albeit this was once.  Ayeka can also generate small logs as a way to cut off mobility of her opponent and bind them in roots.
She might not match up to Ryoko in battle stats but the princess is also not to be underestimated as she can hold her own against Tenchi when he's not full on god mode which shows that her mother's teachings have not gone to waste.
If one can say Ryoko's love is the dynamic than Ayeka's love for Tenchi is the gentle wind that tickles one's nose on a spring day, comforting and clear. Besides she's into S & M so when Tenchi wants to get a little freaky he has Ayeka to scratch that fetish, even though he'd get freaked out and she'd just have him submit to her (lol).
So Ayeka remains my favorite character despite the info dump. She's also deserving of it as well and not to be dismissed likely.
VA work is good in Japanese and English it varies. The loud laughter is key and the haughty attitude is also good but on points it falls flat unlike how the Japanese carries her.
Though I do like the English version on points, especially when hearing how she grows more comfortably in the role of the proper princess; mostly in Universe I enjoy her more in range, OVA I got to pick Japanese.
Fun fact: Jennifer Darling is the same person that was in "The Bionic Woman" in the 1970's show! She is actually in some old anime and some games.  I never knew that as a kid and knowing an icon like that voices a character I like makes it all the more cool!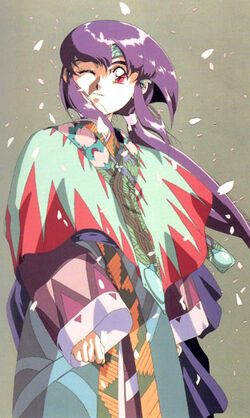 *Princess Ayeka in full form*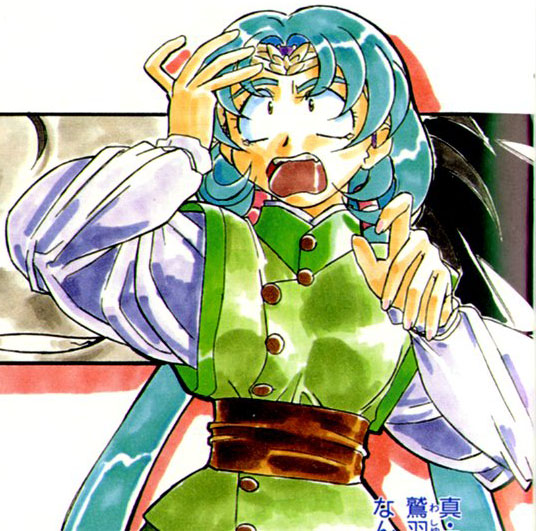 *Ayeka's secret revealed; personally I don't dislike it but I'm used to her hair being purple*
*Glimpse of the S&M (Princess) Queen!*
Sasami Masaki Jurai
VA: Chisa Yokoyama/Sherry Lynn
One of the most popular of this series, Sasami is a character that has won over anime fans with her maturity, appearance and only character to have her own spin-off series in different continuities called Pretty Sammy.
She is the 2nd daughter of Azusa and Misaki and her background is one of the most important given her connection to Tsunami and linked to the strongest ship in all of Jurai.
Being the "den mother" of the group after arriving on earth she takes care of most of the cooking and cleaning which keeps the Masaki household in shape. Along with her mischievous side that rarely shows and grow into a beauty that will surpass her older sister and Ryoko she is a fan favorite.
Sasami's story is basic up until she becomes one with Tsunami, which could actually be more than coincidence given Tsunami's appearance looks exactly like Sasami before she was even born. This means it's destiny that she and Tsunami would become one later.
She is around 8 or 9 years old but chronologically is 700 something years old due to being in suspended animation. Despite that she still is a kid and can be governed by emotion like any little girl.
Sasami doesn't have any big story arcs other than the Tsunami assimilation and her thinking being nothing more than an artificial creation due to her thinking that due to she died after falling and landing near the goddess tree.
Sasami maintains an upbeat attitude and does hold affections for Tenchi. She will love him no matter who he picks and she's just fine with that.
Being one of the Choushin, Sasami/Tsunami existence will continue no matter what but that's not to say she's invincible; she's still fundamentally human. That's not to say she can't put up a fight.
Like her sister, Sasami also knows how to dish out pain even though that's rare. She can use one of her ball ornaments she uses for her hair as a staff and can take down a well trained galaxy police officer.
She gets along with everyone in the household and her and Ryo-Ohki share a tight bond as the cabbit is always with her other than when Ryoko needs her.
Nothing much to say other than that even though I despise lolis/moe eyed little girls and sexualization of them I don't consider Sasami being in the mold of post 90's anime. She's cute but not to the point she's obnoxious like all those damn tropes you see nowadays and actually want her to make an appearance.
Sasami has leaps and bounds over the stereotypes of said characters of today's brand of the ones with a loli-moe fetish.
Anyway that's why she's great! The Sasami-Affect lives!! (lol).
VA side all good and no complaints! She sounds like a little girl which is good to hear and I don't think anyone should find her voice annoying.
*Sasami with Ryo-Ohki*
*Sasami and Tsunami: one and the same*
*Pretty Sammy!*
Mihoshi Kuramitsu
VA: Yuko Mizutani/Ellen Gerstell/Rebecca Forstadt (OVA 3)
Oh boy this one will be short but I got no hate what so ever for Mihoshi. A being that even causes Washu trouble due to the causality effect or being the luckiest person in the universe that has adverse effects on anyone else.
Mihoshi is a first class space detective and from the Kuramitsu family; the ones that govern the Space Academy and second only in power to the Jurai royal family.
She is a bubble-head but means well but it's sad that her character decreases in value with being competent in the first and second OVA series but by the third she has been put on airhead status like her other continuities.
It's actually sad that we don't dive much into Mihoshi's backstory other than finding out that she does have a younger brother that became a plot in the third OVA and nothing much on that.
There is a connection between Mihoshi and Washu though that is revealed in those Tenchi "True" novels which is fascinating. But pretty much Mihoshi is Washu's great-great granddaughter. That could be a reason why she is able to somehow wind up in her lab which is in a subspace (her amazing luck).
There is also info on the fact that before Mihoshi got rather dumb is she was pretty much better at her job and fierce but due to some incident (which hasn't really been mentioned) she wound up like this with her amazing luck. I read somewhere that it had something to do with having a fiance and nothing more.
Her feelings for Tenchi are pretty chill, she does have a crush on him and he is always considerate to her. She also is in great shape and despite eating heavy foods always maintains her figure due to exercise.
Mihoshi has a little more leeway in the Universe continuity by being the partner of Kiyone which strengthens her background there.
She does know how to fight given her brief scene in the Kagato episodes using weapons from her profession and even having a mighty kick (along with a firm grip when dragging Ryoko off in episode 7).
Fun note is during those episodes she is seen using a cube that seems to have all her stuff in there that materializes when putting in the correct pattern but she's rather bad at it.
For all intent and purposes though Mihoshi is a good character that sadly gets plummeted down as nothing more than comedy relief.
To you Mihoshi!
Her voice is good even though in the 3rd series she sounds more dimwitted due to the character drop.
*Mihoshi's usual attire*
*Mihoshi with Kiyone in the Universe continuity*
*Her better disposition in the earlier episodes; competent and dedicated!*
Washu Hakubi
VA: Yuko Kobayashi/Kate T. Vogt
The greatest scientific genius in the universe, Washu (*ahem* Little Washu) is another key part of the series given her intellect, practicality with keeping the rowdy household in order when things get to the extreme.
She is another central character; besides her interllect, she is also one of the Chousin that created the universe. Washu can be considered omnipotent to an extent as she knows a lot of answers but chooses to keep her cards close; key moments is her knowing Ryoko's thoughts (though that's telepathy) and stating she knows about how Kiyone (Tenchi's mother) was to him as a baby.
However she chooses to rely on her scientific mind to deal with the problems that at times beseech the Masaki household. She is usually seen behind her virtual laptop putting in random data and with good typing schools to boot!
Her achievements come from being the person to start the Galaxy academy and the creation of many things. Despite looking twelve she is one of the oldest residents in the series.
Washu also is the one to create the three gems that belong to Ryoko; originally they were hers as a basis for her extraordinary powers from when she was a goddess until she descended to this lower plain of existence to be reincarnated as a human being. The most important asset is creating Ryoko and Ryo-Ohki and is able to hold some discipline over the space pirate, to Ryoko's frustration. For the most part though she leaves her to her own devices.
Despite that she has the same abilities as Ryoko and then some though she does not fight. And is a goddess so she has a lot of power when she is in that form.
Her feelings for Tenchi seem to be romantic (underneath) though she does like testing him for her experiments, which can be a form of love? She does like teasing him though.
For the most Washu's character is a good breath of fresh air from the usual shenanigans of the Tenchi love fest and is hard to determine what she is thinking given her poker face.
Voice work is good though I like her English one better but I usually go back and forth for the OVA. I stick with English for her Universe counterpart.
*Casual Washu*
*Serious Washu when she is free from her seal*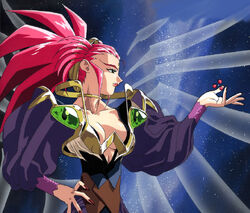 *Choushin Washu holding the three gems*
Ryo-Ohki
VA: Etsuko Kozakura/Debi Derryberry
The mascot of the series, Ryo-Ohki is a cabbit (combo of a rabbit and cat). She loves/obsessed with eating carrots which factors into Tenchi always going to the fields and growing them for her given said statement.
She is Ryoko's partner in her crimes to Jurai being her spaceship and is a powerful ship that can fire lasers. Ryo-Ohki can automatically control herself but usually lets someone like Ryoko or Washu pilot her.
Ryo-Ohki has enough power (or exceeds) that to destroy Jurian ships due to her unique structure of having a gem on her forehead. The cabbit also has a human form which she takes the image of a child due to her mindset of being a kid though she has an adult form but doesn't use it due to she can't walk correctly and decides to "grow" naturally from child to an adult.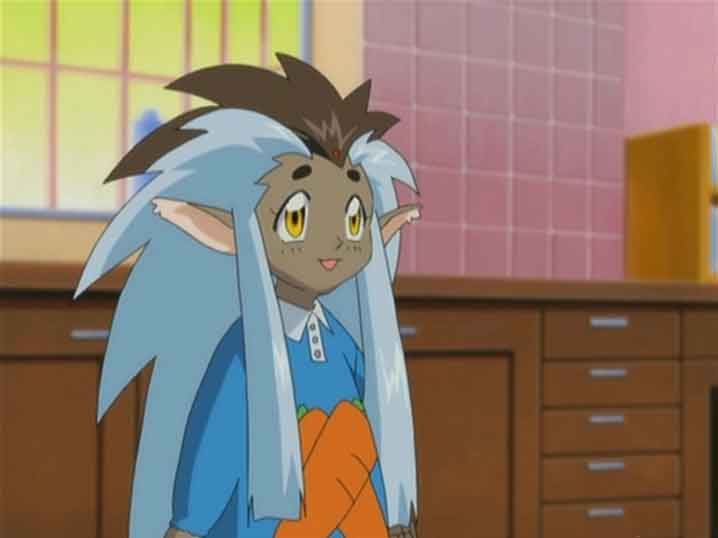 Even though she is close to Ryoko she also has a strong attachment to Sasami and those two are mostly seen together in official images and in different continuities partners.
Given she is a kind of pet role she gets along good with the Masaki family and is affectionate to Tenchi but nothing more than that.
Meow-meow-meowwww! What's that? I don't know, just what she sounds like in any adaption with the dub being more "cat" like.
Fun fact; her American voice is also the one that is Jimmy Neutron and Zatch Bell!
Noike Kamiki Jurai
VA: Naomi Shindo/Kari Wahlgren
Just going to spitball this one. She's the new member of the Tenchi gang and as stated above is the adopted daughter of Ayeka and Sasami's grandmother and their mother's sister.
All I know about Noike is that her role is big in the third OVA. She is a first class galaxy police officer and has worked with Mihoshi earlier in her career (before the "incident" that made Mihoshi as she is now).
Once adopted by Seto, Noike was able to bond with the third generation royal tree, which is a heavy guarded secret on Jurai and the name of the unit is Kyoko as it has powers of that of a second generation tree.
Yeesh, all these tree bonding and the like are reminding me of the term "tree huggers" and making me think Jurians just have a thing for plant life.
Her role in the third season is important but only as a plot device. I'll say it gets resolved and she becomes a permanent member of the family.
She does indeed fall in love with Tenchi, like the other girls but other than their talk on Kyoko and bonding at points, nothing else is known.
Noike's domestic skills are on point as she can cook, clean, tend the fields when needed and has even practiced being a nurse during her galaxy officer career.
She becomes the second member to be helpful around the house more than Ryoko, Ayeka and Mihoshi and being the more rational ones in the house. She also curbs Mihoshi at points and even gets Ryoko to listen to her on an occasion which is noteworthy.
She can fight given her being an officer but what those skills are hasn't been seen. Given her position though she could possibly be a kind of echo to Kiyone from Tenchi Universe in the respect of having good instincts even though Noike is not prone to getting stressed while Kiyone does and complains.
VA work is good since it's Kari Wahlgren so no complaints!
*Noike in her first appearance with long hair*
*With short hair which she keeps for the remaining of her appearances*
*Future version of Noike with Fuku; merged with girl Kagato*
Final thoughts
The episodes and story keep me really engaged and if I have to rate this would be in my top 10 best animes of my life.
Grading average it would be a B only due to the amount load of information running rampant and sadly enough the various continuity mishaps that can confuse some.
Sadly Tenchi In Tokyo is still a thing which is sad given it's lame animation style though the story is ok.
Another note: Tenchi Muyo's 3 series of the OVA, Universe and Tokyo aired on Toonami around 2000 which was heavily edited due to the content of the show does show sexual situations (women's bare breast and naked figures at points) and language even though the latter is rare. It did good and even had the edited version on VHS and later DVD though if you are going for this series, the best way is unedited to see this show in all it's glory.
Boobs and all (lol).
My suggestion is check out the OVA's first before diving into Universe. Ignore Tenchi in Tokyo due to it doesn't hold up much and should only be for the ones who are hardcore.
That's for the blog posts. I for one didn't think it would be this troublesome to get done but glad I toughed it out. Hope you enjoyed this blog and if you want to see more of these in future posts follow this blog! *smile*
Later days everyone!