It's been awhile since I did a movie review, let alone a double one so given I've been on a kick with going to the big screen, decided I should tell y'all what recent one's I watched!
These will be quick given the nature of the films so don't expect lots of info (depending).
So let's get this started!!
Sausage Party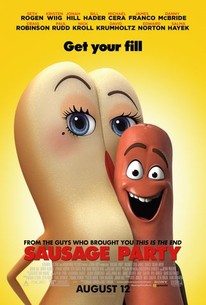 That's right, I decided to go with my inner 12 year old to go and see this funny film filled with nothing but bong jokes, dick jokes by proxy of food and the like in this brilliant parody created by Seth Rogen.
Okay so to begin, we all know who Seth Rogen is right? One of those big comedians (who has lost weight from recent years) and is part of them bro-fest movies written and directed by Judd Apatow. From the big hit "The 40 year Old Virgin" to "Knocked Up" and "Funny People" and others.
He has also directed other films such as the funny "Superbad", "Pineapple Express" and "This Is The End".  Seth can usually be seen with his motley crew of friends such as James Franco, Jonah Hill, Paul Rudd, Kristen Wigg just to name a few.
From what you might have seen on a commercial or Youtube, Sausage Party is what you get, an animated film that could pass for a Pixar movie even though it has cussing and all sorts of profanity you'd get from a college frat party.
The plot of it is about food and how they seem to have an existence (talking, having feelings, white gloves and eyes) and waiting to be "chosen" by "gods" (aka people which is us) to go into the "great beyond" (the outside world) where they think that it will be nothing but happiness and rainbows.
That's when it gets dark. They have no clue that as food they are meant to nourish us and end up getting eaten or worse. Of course they don't know that until a jar of honey mustard sees what happen and is brought back to the store. He is abashed on how ignorant they are for not knowing what their fate will be.
Of course that's part of the story, are true protag is a Sausage who falls in love with a hot dog bun, add two other types of bread that represent the New York trope of a Woody Allen and Al Pacino, a taco shell going for the Hispanic angle, then add a douche plunge like thing (goes up a woman's honeycomb) and there you have it!
Mixed with various themes of racism/culture/belief and other norms of the day and you have Sausage Party. Yes, it is a brofest movie but I believe even some of the women can enjoy wanting to see how sausage just wants to add some sauerkraut on his body as he slides his way into Bun's nice, big hole and smuggle his face in them tits.
I found this movie funny and surprised on how it reflected how, as a person, learning to tolerate and accept others. What's really funny is that when parents first saw this they just thought it would be a "kid" film. Low and behold to find out it had sex references and running out the theater.  Some parts were an eye roll for me but tolarable.
Granted this isn't what happened when I saw it but my own imagination but with the reports of parents assuming such a thing, it's pretty funny. And really, it's Seth Rogen, you have to KNOW what he will do in his films.
Seth Rogen, Kristen Wigg, Michael Cera, James Franco, Paul Rudd, Jonah Hill, Salma Hayek and some others in this film.
There are other things I might be forgetting but that's the movie in a nutshell. Unless you want to know how our characters get out of their predicament and if they really end up in the stomach of a giant god who could burp/fart them out or even take a massive deuce.
What do you take me for, a douche? You want to know I suggest you see it for yourself and keep an open mind.
For the story, characters, plot and themes I will give it a 7. As for entertainment value an 8.
Best to see this movie on a drunken binge and not sober since it's pretty out there. I kind of wish I took a swig of beer before leaving but it was 11:30 am when I saw it…
War Dogs
This is the latest movie I saw and to be honest, I wasn't expecting anything from it.  However after watching it, I'm glad I was wrong!  War Dogs is a decent film!
Starring Jonah Hill and Miles Teller, War Dogs tells the "based off the true story" of two guys in their early 20's who got into the job of trading illegal guns and selling them to the government.
Taking place around Bush's second term, this dramatic, criminal-comedic tells how Teller's character goes from a certified massage suce into the game of illegal activity for a quick buck from his childhood friend played by Hill.
Given Teller's character is having issues with his daily life and wanting something more, along with supporting his girlfriend who is pregnant, he becomes amored with how Hill's character with being 'tough' and taking no shit from anybody (by shooting a machine gun in the ghetto after not getting some weed).
Soon tubby ask stretch to be his partner with selling equipment to the US army through underhanded tactics which takes our characters to Baghdad and even Albania.
I'll say this much if you've watched movies like Scarface or one of them old mafia movies with Al Pacino then you can expect how this goes into a rags to riches kind of story and living the high life off of crumbs through loopholes in the system.
Granted I'm no political or army analyst, I'm just paraphrasing some keywords I heard them say.
Jonah Hill's performance was good even though he had this annoying Peter Griffin laugh. Miles Teller was also good and after the disastrous Fantastic Four movie I thought he would be a washout but he actually convinced me otherwise.
Going to the theater on a Saturday evening was interesting; mostly couples with some minor teenergs and me being a single guy. I have a rule to see any movies in the morning if I'm going by myself or the afternoon/evening with friends.
The small crew seemed to find parts funny and I have to say I was engrossed in it. War Dogs wouldn't have been my go to movie but I'm glad I went to see it.
This film could be a "get it on dvd" and "watch on TV/stream" if you happened to miss anything.
For plot, characters and music I give War Dogs a 7. For entertainment value it would be 7 again.
So those are the films I watched.  Yeah, not my most strongest blog but August is considered the weakest month in cinema. I hope to change that by finding anything else of  interest coming out for the rest of the year to bring you more reviews (even if it doesn't get read).
I'm also finding my anime/game blogs to get more hits. If that's the case I'll probably do a "Top Waifu" one in the next couple of weeks?
*A sneak peek of that certain blog. Saber is happy*
Anyway there you have it.
Peace.