What is is up, everyone? Today's blog is a comic I've been reading for a few months and wanted to express my opinions on them.
Let's take a look at the comics I've been reading and my views on them. Come on, let's go!
The Return of Jean Grey
When you think of X-men, normally some recall famous or popular characters like Wolverine, Gambit, Storm, Rouge with the other half talking about Cyclops being lame and especially Jean Grey due to the portrayal in the 90's cartoon.
X-men once ruled all of Marvel comics in the 90's and during Grant Morrisson's run, Jean experienced major changes; from gaining the powers of the Phoenix (once again) and the decline of her marriage and unfortunately, winding up dying by the hands of an enemy and once that occurred, the entirety of the X-men team has felt the effects of the loss of the red-head.
I'm not saying that she was the focal point of the team, as there are plenty of characters that kept the team going and stories going for years however the fall of  the mutant team came in the form of "Vs" titles when they went up against the Avengers around 2011(and being popular with the MCU) and the Inhumans in 2016, which lowered the team as being nothing but brutes and given the Inhumans a boost as they were nothing more than replacments of the X-men due to Marvel comics not having the movie rights owned by Fox.
With all this and getting involved with disagreements with each other in the form of the event "Schism" which was another, if not, killing blow where Cyclops and Wolverine have conflicting ideologies where to lead the X-men and mutants as a whole, this looked to be the end.
Enter the point of that little history lesson, in the recent X-men Red Annual, which takes place between Phoenix: Ressurection, where Jean Grey miraculously returns and X-men Red issue one, where she is leading her own group.
Annual is the apology tour with Jean is getting caught up with the events that have transpired after her death, from the stuff I mentioned to other stuff that was touched on. This was a definite shocker to Jean but also how non-mutants still treated mutants, if not worse.
It also shows Jean confronting Black Bolt over what happened to her husband in IVX. Even though Scott didn't really die by Black Bolt's hands as that was Emma using her powers, he did still die by the mist along with the King of Attilian being the one to unleash the mist in the first place.
He apologizes for what occurred with the war or mutant's and Inhumans as that never needed to happen. This feels like a breath of fresh air as I think editorial wanted that to occur, to show that they, Marvel, didn't hate the X-men or try to push them out. Though it is suspect the Inhumans got that MASSIVE push a few years back.
Yes, I'm not an Inhumans fan, they are forever Fantastic Four support players with interesting backgrounds though I'm not curious on the gist of expanding their history.
The issue also is like a wake-up call with the goings on of today where racism/classism/sexism still being a factor but with mutants being the focal for all that in this comic. I've heard some call it "SJW" (Social Justice Warrior) comic due to what Jean is tackling.
Jean Grey is trying to bridge the gap of humans and mutants and get the X-men back on track with her actions although, unknown to her, another enemy that has come back under mysterious circumstances is trying to halt that progress.
That person is Cassandra Nova; Charles Xavier's twin sister/doppelganger that was a big pain in the ass in the first arc of Grant Morrisson's X-men run and antagonist in Joss Wheadon's third X-men arc in Astonishing years back.
She is one with no compassion or love and wants to bring mutants to the brink of destruction due to her twisted ways and Jean is no closer to figuring that out as of yet.
Due to Cassandra's machinations of framing Jean of the death of an ambassador of the United Kingdom in the United Nations summit, Jean and her team are on the run trying to figure out that along with the massive spike in mutant propaganda which will introduce a new character along with try to show that hatred and bigotry are a thing will continue to divide us if we continue to give into the negativity of someone that is different.
I believe this is an analogy for the stuff going on today as I mentioned and I can see why some cynic reviewers refer to X-men Red as "SJW X-Men" and downplay Jean's martyr act as being annoying or a way for the writers to push their agenda on the reader while they (some readers) just want to enjoy superhero's battling bad guys.
Granted Tom Taylor, is showing his views on the matter via Jean and his writing, there is nothing wrong or false over what this book is trying to iterate. These are troubling times, more than I would like to admit and that is me being honest. However even though it does have "SJW" stuff as some close-minded people are stating, it holds an amount of truth of the matter as well.
Reading X-men Red has been a breath of fresh air for me as it tackles those issues that X-men comics have done in the past and now getting back into. Sure, X-men Gold is doing that but Kitty's team is more superhero route while Jean's is trying to unite by not trying to be violent or in your face so to speak.
Jean's personality has also changed from when we last saw her. She has lost her husband, a good friend, and a teacher/father figure. She has to move on with her life and find meaning in this ugly but beautiful world. She seems somewhat calmer compared to the fiery personality she was portrayed with a decade ago and also more of a maternal side that wasn't seen in a long while. She is also the straight man to Honey Badger's quirky personality which is nice to see.
Even though she is, now, one of the strongest mutants in the world and omega telepath, Jean knows that power alone is not enough to stem the lines of unity and she is using this as a stepping stone to achieve Charles Xavier's dream, even though she is going about it her own way.
On her team, we have X-23, aka Laura Kinney, popular X-men character, and new Wolverine. Her abilities are like her originator, Logan, has adamantium claws but only two with the added measure of a claw coming from her toes. She also has a healing factor which is on par with Logan's as well. She is deadly in combat but has learned to control herself in the years of publication.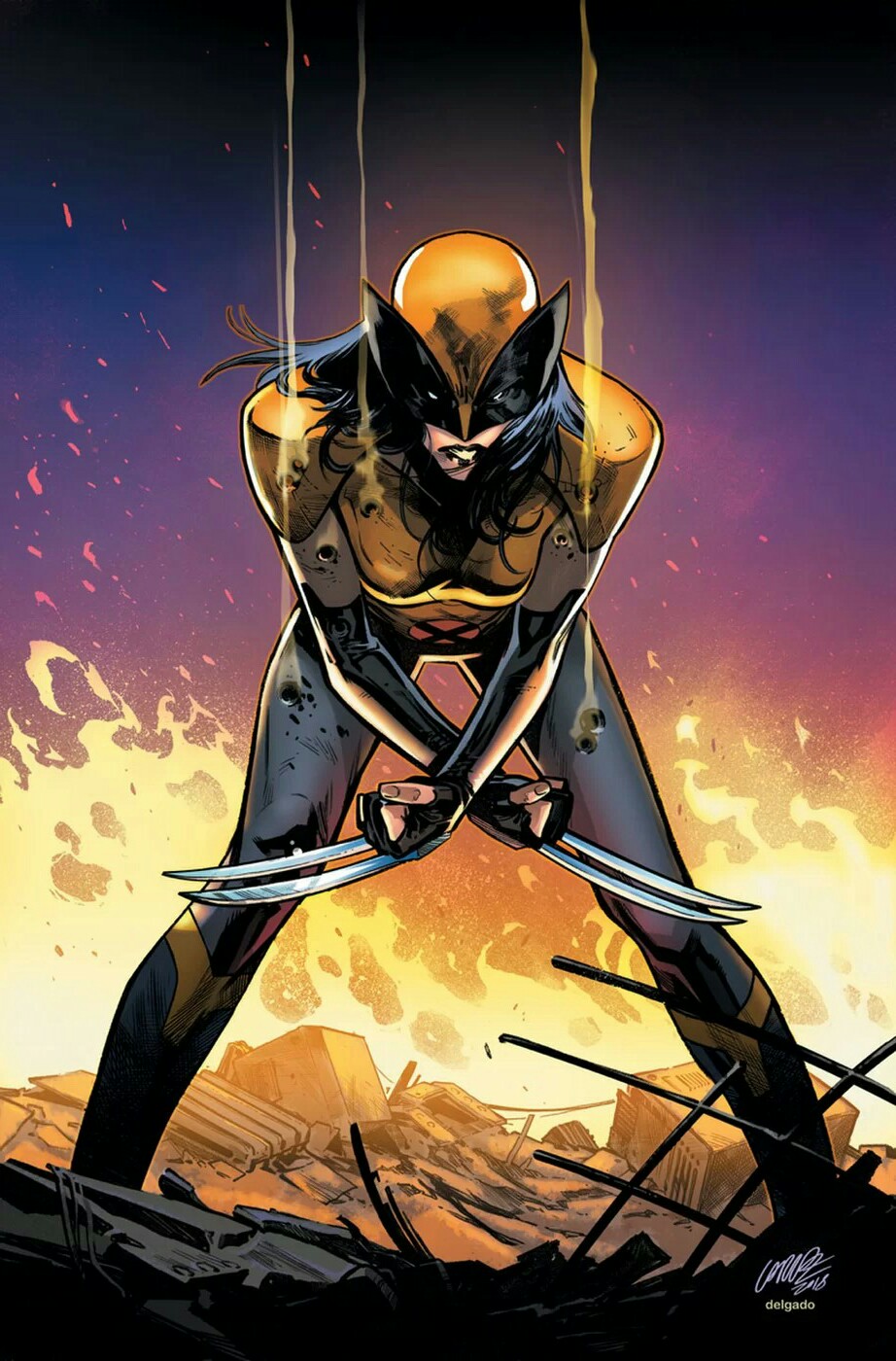 Honey Badger, Gabrielle, the clone/sister of X-23, join this group by bringing her brand of humor and teenage charm to this story. Similar powers to Laura but with a single bone claw and healing factor, she is an interesting and fun character though I am not knowledgeable on her history.
Kurt Wagner, also known as Nightcrawler is part of this, watching out for Jean. Being referred to as "the soul of the X-men", by Jean, this does not go against continuity as when he died a few years ago it could be felt that his lack of presence of being the integrity to the group was missed. He can teleport and is an expert swordsman and is also a prankster and a former priest. His mother is the infamous Mystique and Rouge is his foster sister.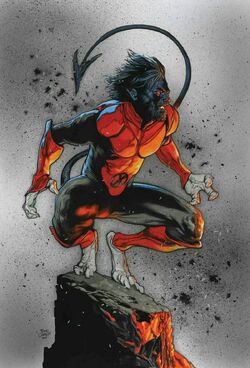 Nezino Abidemi known as Gentle is part of the team but is a pacifist. According to Jean his mutant ability is on par with someone like the hulk, he gets a massive build of strength but it put's a strain on his body. He utilizes bands made of Vibranimum to keep his powers in check.
Namor is also part of this group and is the King of Atlantis. Jean uses his help when it comes to his link with Atlantis being a nation along with Namor being a mutant as well.
Gambit aka Remy has been an X-men and antagonists for years but it seems fate leads him back to the wayward group.
Trinary is the new character from India introduced in this series. She is a Technopath; someone that can control and form of technology with her mutant gene.
The series has got me to like the X-men again and Tom Taylor is an awesome writer for doing the character Jean Grey justice and what he is bringing to the table with his writing. The art, by Mahmud Asnar, is really well drawn and crafted!!
X-men Red has become one of my favorite read comics for 2018 and I don't care for the "SJW" some say in a negative light. Comics is a form of entertainment and not just for kids, it's a medium for info as well as to make us broadminded.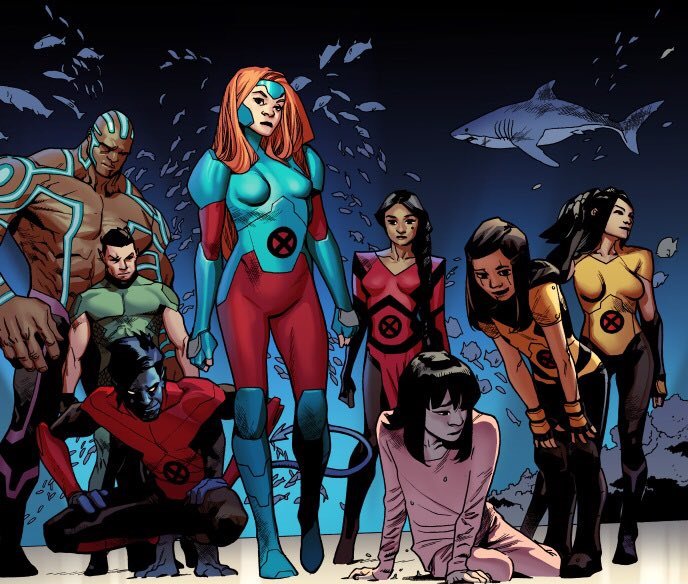 I do wish this came out every few weeks instead of monthly but with the crafting of this book, I am glad Tom Taylor has a month to do these.
Until next time!