Hello everyone, today's blog post is going to be on the new Fantastic Four comic written by Dan Slott!
After an unexpected ending for Fantastic Four comics around 2015 with"The End is Fourever" to "Secret Wars" to have a conclusive ending for Marvel's First Family with the team being broken up (literally) for story purposes since the Marvel universe was going into a different direction, editorial-wise.
Johnny Storm, The Human Torch, went with the Uncanny Avengers and became a liaison for the Inhumans along with being a boyfriend to Medusa. This storyline was not a favorite of mine on two levels. One being, he used to date Crystal and the latter is the younger sister to the queen of the Inhumans and it's in bad taste on many levels.
The next one is one critique I've had (at the time) of the Inhumans trying to be the new X-men with the various titles and the coming of "Death of X" which pushed the genetic teams to have a tepid relationship as a whole to an outright war which never needed to occur.
Ben Grimm, The Thing, shacked up with The Guardians of The Galaxy before he left the team due to another ill-fated event "Civil War 2" which is just character assassination for all involved and once again, pushing the Inhumans to be a big deal!
After that, he went on to be a kind of Agent of SHIELD to keep tabs on Doctor Doom, who went legit for a time and utilized Tony Stark's armor to become the new Iron Man, which got covered in Brian Michael Bendis's series "Infamous Iron Man", which had a strong beginning but soon sizzled out by the end.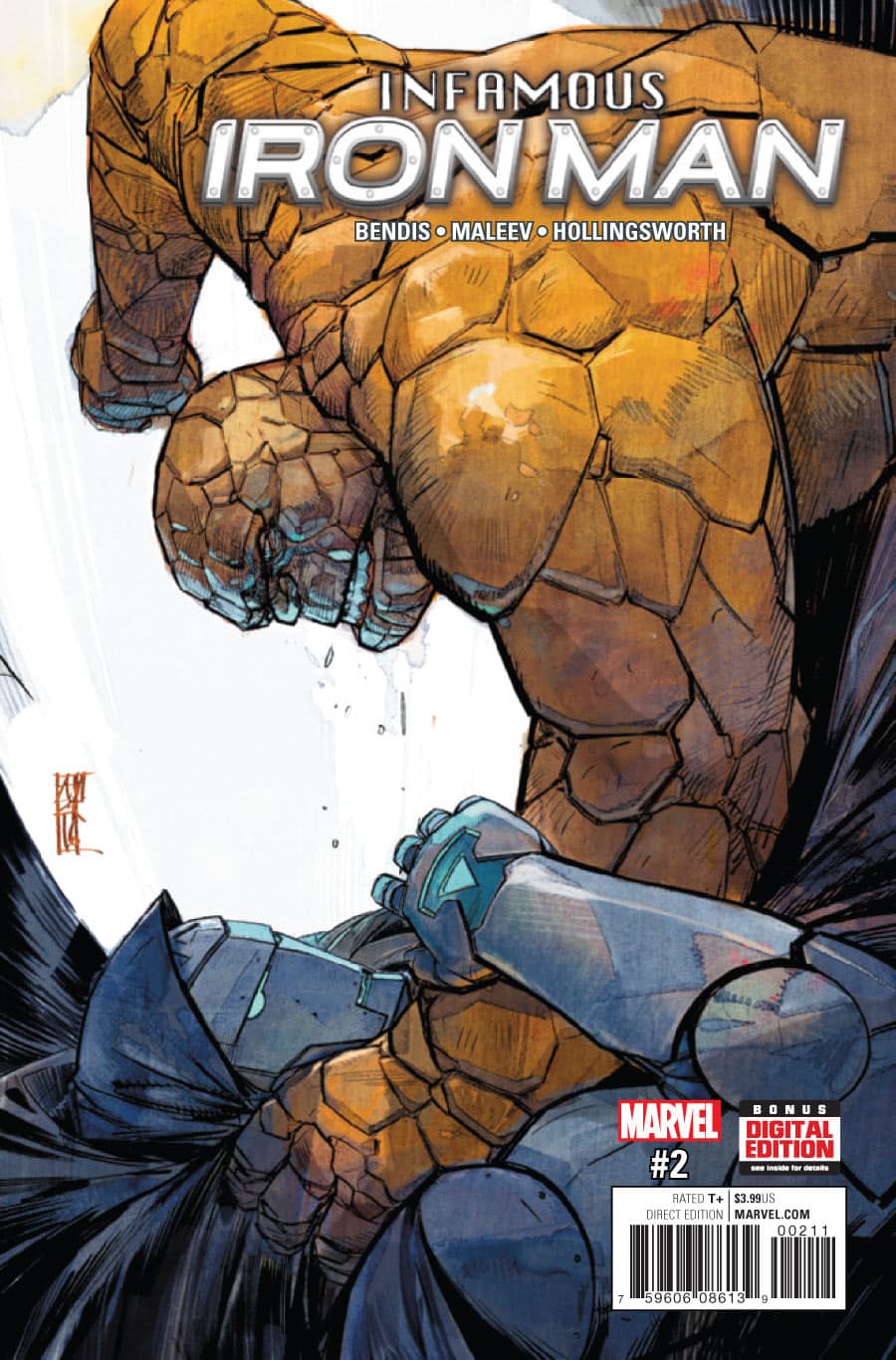 By that, what happened to the woman that wound up pregnant by Doom? Does that mean for the first time there will be an official heir to Latveria and Doom's legacy? Who knows as Bendis is at DC now so…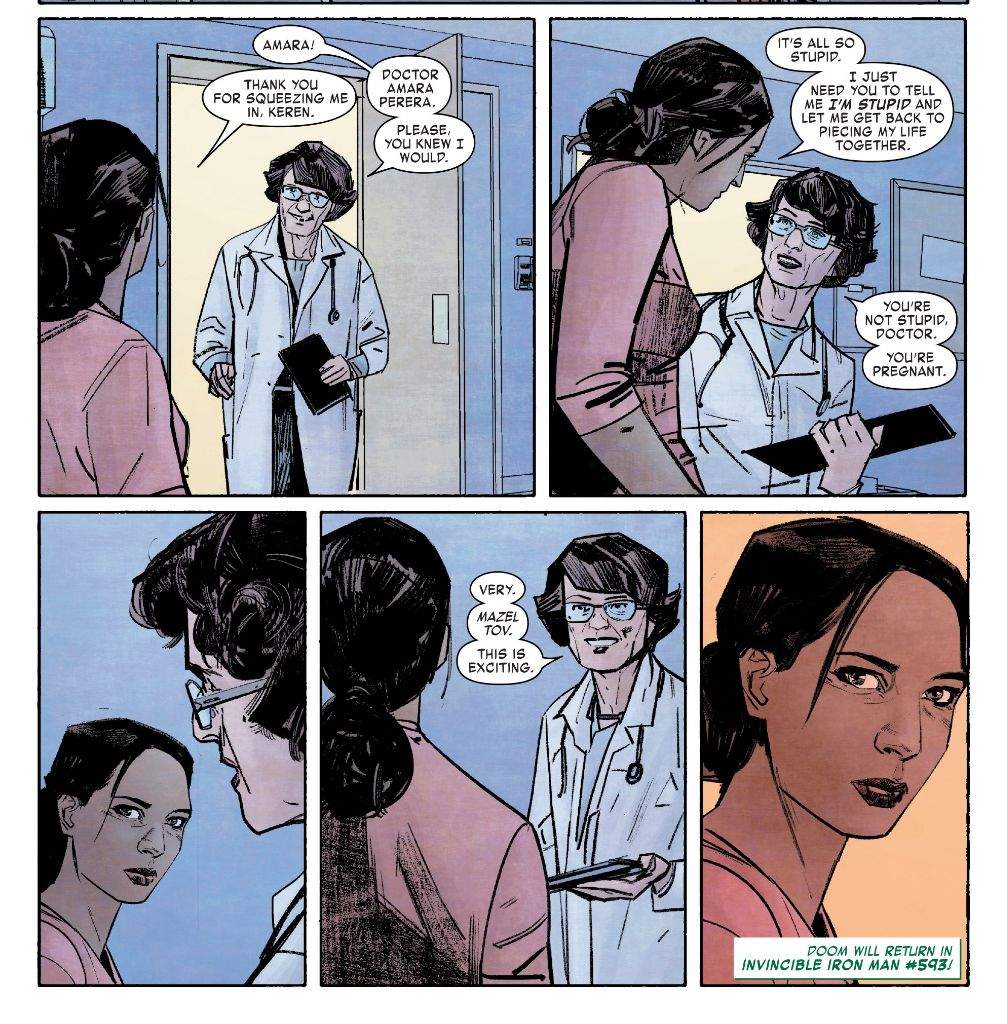 Now for a story perspective, it could be seen as entertaining as it is comics, however, as an FF fan, it felt out of place. Especially hearing of the circumstances behind the First Family being disbanded in the first place.
Stop me if you heard this, but the reason for Marvel canceling was due to the writes of the Fantastic Four being part of a different company, FOX, when Marvel declared bankruptcy in the 90s. So even though the comic publisher still put out comics of the Fantastic Four, they didn't "own" them.
Due to plenty of incarnations of movies which have failed in the Box Office, FanFourstic being the ultimate offense, Marvel didn't want to put stock in a team that had a bad rep when it came to movies since they still sold their stories.
To cut ties, they made "the last" comic of the FF and made Secret Wars their swan song; with Reed defeating Dr. Doom in the end, with the latter acknowledging Mister Fantastic being the better between them, as a man and scientist.
This, in turn, made Reed make a decision, since he now had Molecule Man as his foothold to power, along with Franklin being an omega level mutant with nigh reality manipulating powers, they would start to create the multiverse with the Future Foundation, Val and Susan going with them to explore and be pioneers and not superheroes.
They leave the other teammates behind, which I'll get into shortly for the reason why soon. That is the reason the FF haven't been in publication for a few years…until now.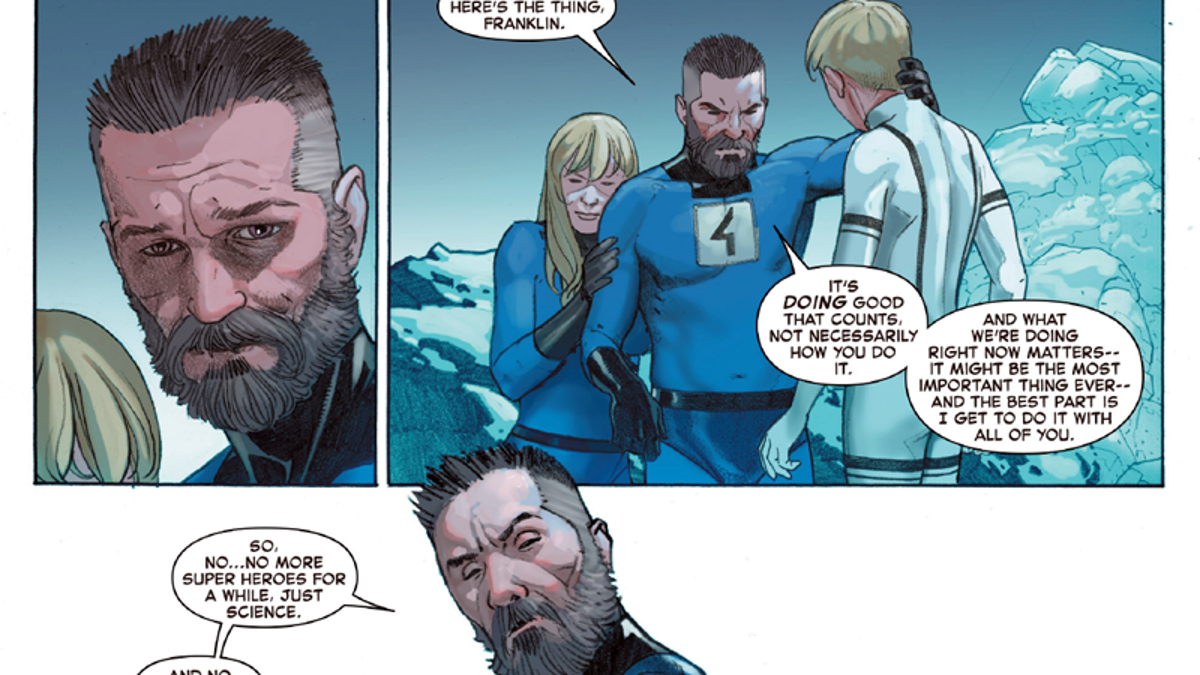 Disney owns Marvel and in a dramatic move, to get all of the Marvel rights back, the company brought back The X-men and Fantastic Four. To be more precise, it brought Fox Entertainment, effectively getting back both groups in the process.
The news was staggering on many levels as Disney now owns half of the entertainment business studios under their banner. Some, majority of the comic fans, were ecstatic to finally now see X-Men and FF become an official "MCU" characters as it was meant to be while the rest, non-fans, business owners, realist, etc., saw this as a revolution that Disney is trying to own everything or the loss of jobs that has occurred with this turnout.
Which is true, though, I'd be lying if I wasn't happy about the FF coming back and getting an eventual movie, which will hopefully lay to rest this curse that "No one can make a decent Fantastic Four film" or "you can't adapt them, they are hard to do!"
That is not true; just like the Avengers or X-men, the FF have a majority of stories you can adapt into film, with any needed changes as it can't be exactly like the comics.
Though, that's neither here nor there as more than likely, we won't see them or the X-men appear in the MCU to at least after 2020.
Okay, so that part is done, let's get to the good stuff!
There is lots of red-tape that goes into this so I do apologize if this gets lengthy but the process of "Fantastic Four returning" to comics has to do with the bureaucratic bullshit.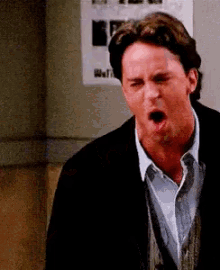 To start, after Human Torch and Thing have their fling with the other teams/stories, they come back together in "Marvel 2-in-1". It's an old title which starred The Thing, having solo adventures with a guest-star, like Spider-Man or some other hero that needed a boost.
This was brought back as an "unoffical" Fantastic Four story where Ben and Johnny go on a mission to find Reed, Sue and the kids due to Johnny being in a bad place in his life.
In a scene, a retcon, Ben remembers having a brief conversation with Sue during the beginning of Secret Wars, where she tells him that if anything happens to her or Reed, he has to look out for Johnny.
Even though he might act without thinking and a jerk, he really looks up to Ben. These are Susan's words before the ship takes a turn. This is pretty impactful for me to be honest. It shows Sue's faith in Ben.
So when he confronts Johnny about his reckless behavior and the blonde states he misses his family; sister, the kids, Reed, them being a group, all of it.
Ben, seeing that Johnny has hit rock bottom and would continue doing dangerous things, decides to lie to him and tell him that Reed and the others are alive, as a saving grace for Johnny not to go on the path of self-destruction.
It is soon revealed his powers are weakening. It's soon discovered through the course of 2-in-1, that the FF are actually linked to their powers; as in they need to be in the same radius or dimension for their abilities to work. If one or two, in this case, are gone, then their powers will diminish…
This is the crux of the story but it's not about powers but finding their family, that is dead by everyone in the Marvel universe.
Ben knowing that this is a lie, as he believes they are dead, tells him he was gifted with a special machine called the Multisect, which can traverse dimensions. It was delivered to Ben per the Will and Testatment of Reed Richards.
Stretch-O wants him and whoever is there, Johnny in this case, to continue on the Fantastic Four's legacy of exploration and being pioneers of the unknown.
With that the duo gain help from a scientist named Rachna Koul, who specializes in giving depowered people their abilites back as she has her own agenda for going with them.
On their heels is Doctor Doom, who is at a crossroads from still being a hero to going villian again by the end of this.
They traverse many dimensions, which are explored in issues 3-10 and an Annual but they wind up in the council of Reeds, domain, before coming home.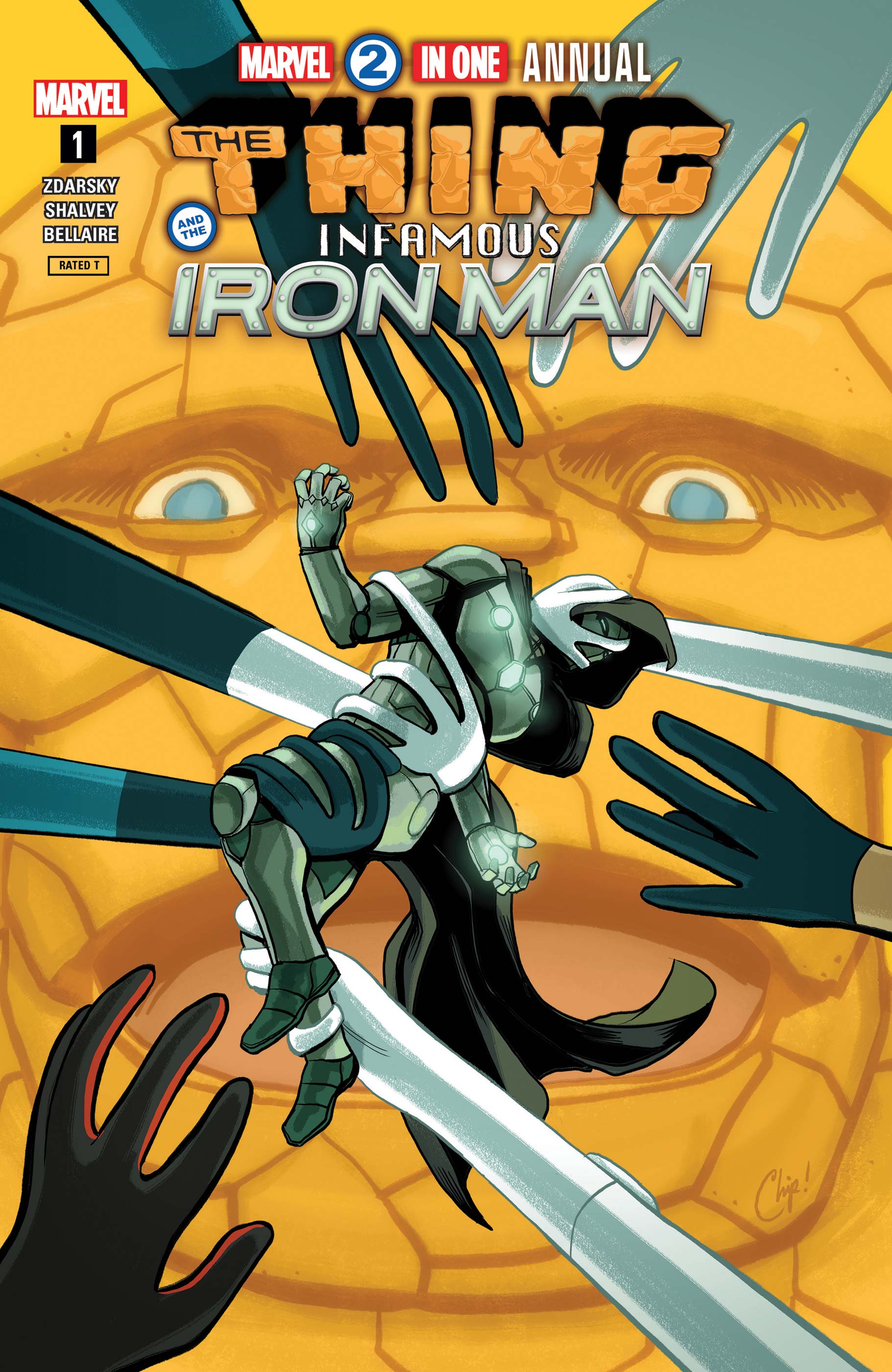 Some more info, Dan Slott has writing duty on the Fantastic Four, for the considerable future. His previous work was on Spider-Man. I never thought he'd get the keys to this team however with 5 issues and an annual done as of 2018, I have no complaints!
Back on earth, which a little time has passed, Ben and Alicia decide that after all these years of break-ups, intergalactic travels/saving the world, to remaining friends, old blue-eyes pops the questions to the love of his life and she says yes!
That's right, after 60 years, these two are finally engaged for marrige! Soon, Ben tells the news to Johnny and asks him to be his best man!
Little bro outright says no? Come on Johnny, you gotta be a team player!
His reason is that the one person who should do it for him is Reed, his best friend. The two agure (which will never change) before he (Johnny) breaks down before accepting the position.
The trio are happy at least that they have each other except the most pecuilar thing happens; a giant blue 4 signal flare shines throughout the New York skyline, which prompts Ben to eat his words in the end, their family is alive.
Time for the moment you've been waiting for; what happened to Mister Fantastic, Invisible Woman and the kids and extended family?
Like I mentioned, they are traversing the multiverse with Molecule man being the basis as an anchor and binding for the universe while Franklin, creates the universe with its various laws and whatnot.
While traveling, half a decade has gone by, effectively making the kids a little older; Franklin appears to be around 13 or 14 years old, while Val is close to being 13 and the others are in their early teens as well; they have all matured in a way but since they are teens, things change, which will be a big deal for when they get back.
In their latest stop, the future foundation Molecule confronted by a being named Griever; an incarnation of destruction, entropy, and death, whose presence here signifies the end of the Future Foundations adventure and that starts destroying the worlds that Franklin has created and chased the group down!
With that much kind of firepower, you'd think teenage Franklin can beat her? He tries but nothing comes of it; even Molecule Man tries his luck to stop her as he has a bone to pick but she scatters him to the winds, wiping him out entirely.
Everyone is stunned and Reed has an idea that might work; he explains that while she has defeated them, a team comprised of teenagers if the FF were here, she'd be defeated. Griever is none too pleased and admonishes him for his arrogance yet can't help but be intrigued and gives him one chance.
Soon Reed builds the device for the FF flare, which is seen by Ben and Johnny and soon they appear in front of the Richards!
Yet they aren't the only ones here; he brought out anyone who has ever been a member of the Fantastic Four; from Crystal, Medusa, Luke Cage, Black Panther, Storm, to name a few.
So it goes as expected, big brain (Reed), comes up with a plan for the extended fam while the main have a moment of being together. It's a nice one but a job isn't finished until it's done.
Johnny and Ben, under Reed's orders, destroy the teleportation pod he used to bring them all here, to the other folks surprise and dismay.
Soon, flame brain and rockhead go to see the kids!
During the surprise of seeing the kids now teens, the group that they need one final push and it's up to Franklin but he is in doubt; he went up agaisnt her previously (in issue 2) and he couldn't even put a dent on her.
Spider-Man, who I neglected to mention is there since he was in "The New Fantastic Four" from around the early '90s, tries to give him "With Great Power must Also Come Great Responsibility" spiel before Ben tosses web-head and tells him to believe in his family as they can do everything.

With that, Ben and Frank go on the offensive with a powerful punch with "IT'S CLOBBERIN TIME!", which is a pretty good picture!
Griver is surprised by the attack but bemused that he would try again. Franklin soon gives his own speech of belief, etc, etc, before Susan goes all mom-mode and states she won't let harm come to her son, grabs him and goes invisible.
After all that the fight ends as they did what was intended. Reed informs Griever that the reason she needs them was to get back to their own world so she can destroy it but with only one teleporter at her command, with a one way trip, as the one he built was damaged by Thing and Human Torch (see why Mister Fantastic is one of the smartest in the Marvel universe?) he states she can make one choice to return to whence she came.
After this and giving a "I'll return" deal, she vanishes into the unkown and the FF have saved the universe!!
Okay, I know I kind of cheesed it at points but that's the gist of what happened; if you are that curious, I encourage you to check it out!
Soon Reed returns all the extended family to their homes not before another goodbye is happening. Spider-Man also leaves with unexpected news, trying to inform them on the Baxter Building but gets cut off during the transportation, leaving stretch bewildered.
The Future Foundation is going to continue there trek with Alex Powers being a Professor, that Sue and Reed will put in the official paperwork when they get back to make it legit and Dragon Man protecting the younger charges of the crew.
They have a tearful goodbye with Frank and Val, as they are going to go back home with their parents while the FF (Future Foundation) are going to look for Molecule Man since if they find one of his molecules, they can find a way for them to be whole.
After this, they head off while Reed transports them back to Earth 616 where they are greeted by a baseline team trying to be the Fantastic Four, calling themselves, the Fantastix.
This is a surprise for the team that's been gone from Marvel proper for about a year (4 years for us readers) and the Fantastix are fighting against The Wrecking Crew.
While our heroes try to get a handle on that, Franklin takes off with Ben to go see Alicia, as the former and Johnny left her hanging on issue 1 after seeing the Fantastic Flare.
For his side, he's the first one to see Alicia and she is delighted seeing her godson alive and a foot taller, to the teen's dismay. Ben and Alicia also have a heart to heart over the whole "leaving unexpectedly" which she understands this will be a factor in their lives, which she will take in stride.
Things get a little-complicated back on the other side of town as Invisible Woman and Human Torch get something to the crowd's chagrin, as they are getting hype for the new team.
Val, along with Reed who remains in observation mode, realizes something is amiss and uses her wits to win the day and pay off Wrecker and his team, along with proving this entire deal was a scheme hacked up by their press agent.
Shows that Val has come a long way. Along with, since she's a teen, she had no legal right to make an offer…smarts are a superpower, kids!
So Reed and the Fantastisx reach an agreement where they can stay there, too Johnny's chagrin but he (stretch) reminds him that the Fantastic Four isn't where they live, it's where they are together a family.
To the surprise of everyone, when Ben comes back, he informs them that buying an apartment building on Yancy Street and that is the new FF's home base, which is a nice touch. They see Alicia, which is also a nice reunion.
Marvel-2-in-1 Issue 11, which takes place after issue 4 of FF, is focused on Reed and Ben and the former's explanation on the reason why he didn't take the latter and Johnny; he thought that they would be bored.
He wanted it to be about exploration and the science and not being a superhero; with Frank, Val and the other students/kids being part of the Future Foundation, they would learn and experience many things and since Sue wouldn't even dream of being apart from them, along the fact she can at least follow Reed's rambles and be "the mom", he felt Ben and Johnny would be bored out of their skulls as they've never been prone to his science talk.
Along with Reed was at rock bottom with being a superhero.
Ben doesn't agree with that or the fact he made them think they were dead. The two have a heart to heart and even though it will take time, Ben will eventually forgive him.
Issue 12 is the last of 2-in-1 and it's mostly a Johnny and Sue collab with the scientist Rachna returning and closing up that loose end from the earlier issues of this series.
Johnny is upset that everyone treats him like a kid, and effectively taking the choice away from him of being left behind, Sue takes him shopping, monster attack from what appears to be Mole Man, they take care of it, Rachana appears and explains her reasons, stop Mole Man from killing Rachana's sister (read 2-in-1), save sister and family have a heartwarming ending with Johnny, though not liking the choices in all this, forgives them.
Fantastic Four: Wedding Special, explores the beforehand stuff of then bachelorette party for Alicia and it's a nice one, to say the least. Next is Ben trying to get Puppet Man's permission to wed his step-daughter, as he is a gentleman and an unexpected twist at the end, which shocked me.
Issue 5 of Fantastic Four, 650th, is the wedding between Ben and Alica and I am happy it kept its promise.
This year of broken promises of characters getting married has been a major joke, from Kitty/Collasus to Batman/Catwoman.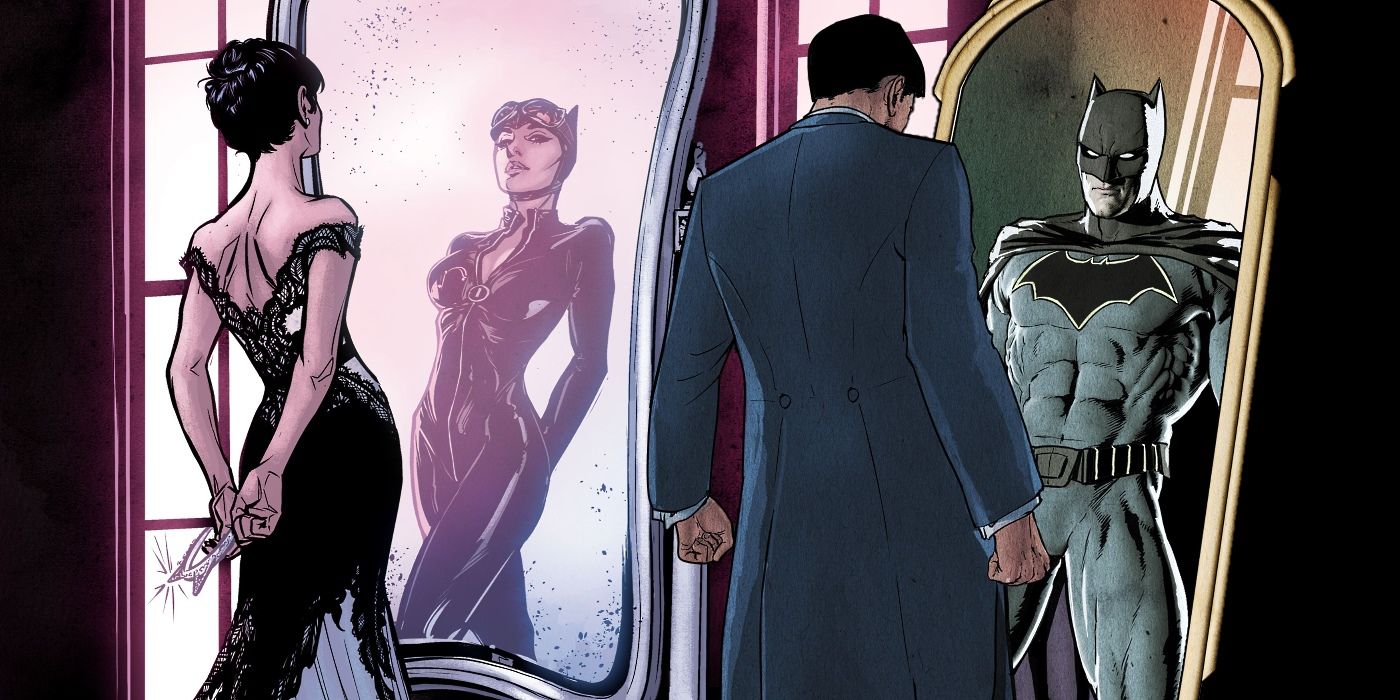 Though we did get Gambit/Rouge hitched and they are off having their own adventures in Mr. and Mrs. X, written by Kelly Thompson (an awesome writer), which is currently 7 issues!
The wedding goes off with some minor hiccups at the end with Doctor Doom, who went all breaking bad once again, declares to the world that he will protect them from a now invading Galactus.
Reed comes in with the save, using a device that freezes time for those in close proximity of Ben and Alicia and the Rabbi is able to to officially declare Ben and Alicia, husband and wife!
Alicia Grimm then gives her husband encouragement for the fight with "Clobber 'em". That's all the ever-loving blue-eyed thing needs as encouragement!
And that's the (current) story of "The Return of The Fantastic Four". It's issues are 1-5 with Marvel 2-1 being 1-12, with issues 11 and 12 continuing the FF returning and getting used to life in their new home.
Okay so the dynamic of the Fantastic Four has changed, namely with Franklin and Valeria, who are older now and not just helpless kids.
These two characters are not teenagers, at least around their early teens as mentioned previously. The kids of Mister Fantastic and Invisible Woman also have code names!
Franklin Benjamin Richards is Power House! While Valeria Meghan Richards goes by Brainstorm, which is very John Kirby like to have such cool names.
Powerhouse, since Franklin is "beyond an omega level mutant" with all the abilities he has at his disposal. Currently, he cannot create universes anymore as it hit a limit, as stated in issue 2.
Even though that's the case, his powers are large and in charge and with him being older from his rambunctious self of 7 or 8 last time, he has some wisdom.
Though now since he is a teenager, he's a little like his uncle Johnny, with having a wisecracking attitude and testing his mom at times and being on his smartphone for all sorts of hours.
It's expected for a boy his age to do that so it will take some used to this new deal but I'm enjoying a smart ass, Franklin! He'll go far being an extra addition to the FF if he so chooses to partake.
Valeria going by her code name is because she has always stated she is a genius.
It is confirmed she is as smart as her father and Doctor Doom, if not smarter and her being a young woman shows her crafty side. With her genius level intellect, she could be a force to be reckoned with to keep up with the likes of Tony Stark, Bruce Banner, and T'Challa, when she get's older.
But like her brother, she's a teen (for now) and also has spouts of teenage angst but not to the extent of Franklin. Though with only 5 issues, it's hard to determine what will come to pass.
I say "for now" as comics have a sliding timeline and at times, the artist or story will make them appear younger or older from what is stated in the story.
Personally, I like this and hope it sticks for awhile.
With these two added additions, the team just got a more "fantastic" and I can't wait what the future has in store for them!
Okay, before signing off, I am going to say, the Fantastic Four is my favorite team in all of comics. Being a kid when finding them out to picking up my first comic book of them from Chris Claremont's run in the late '90s really was a big thing for me.
Even though I dropped them for a time and didn't pick up any comics to around the time I got a full time job around 2008/2009, I am glad I got back into them.
They are not just a team but a family; even though one is not by blood, he is an honorary member and that is something I can like! Being blood doesn't always make a family, it's the bonds and experience, no matter how inconsequential it might seem, that do it, in my opinion.
I am very happy this team has returned and you bet your ass I am going to be reading this team and supporting this. I don't care what the opinions of hardcore comic fans are for this team, they make me happy for reading, experiencing and growing with them no matter what.
Comics aren't just "for kids" as close-minded folks think, it is a medium to expand your mind and make you better with learning some views from the writers and the artist that convey the feelings on paper.
Here's to you FF, and to many more!